If you want to base yourself in central Switzerland for an extended period of time, a Berner-Oberland Pass is a lesser known pass, which can be great value for money.
You can choose passes valid for 3 days, 4 days, 6 days, 8 days and 10 days of consecutive travel; there ae no flex versions of Berner-Oberland Passes.
They are available in 1st and 2nd class, and children and dogs are charged a flat rate of CHF 30, no matter how long the pass is valid for and whether you opt for 1st or 2nd class.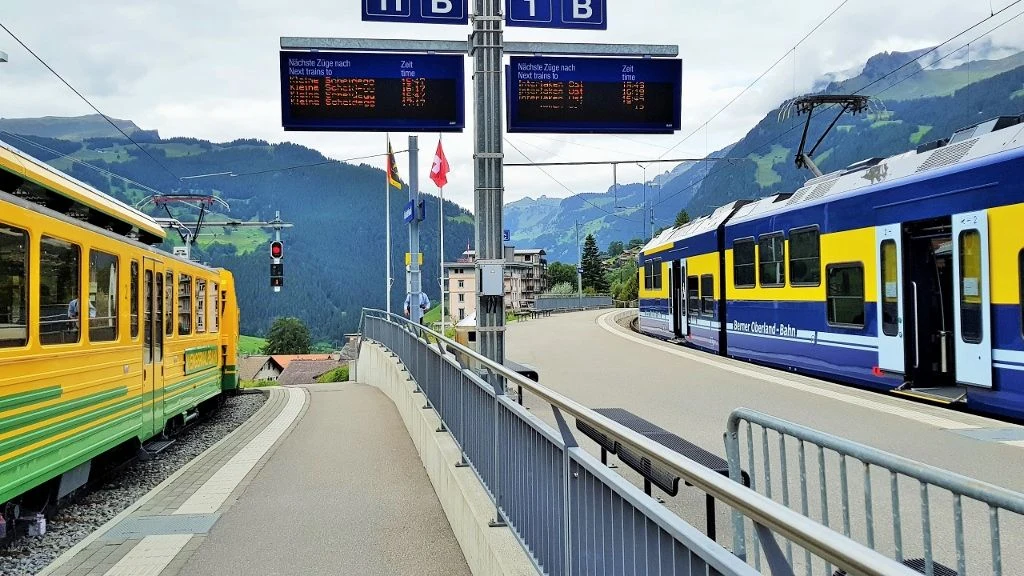 What's fully covered by the pass includes the cable cars / gondolas from both Grindelwald and Wengen, plus five of SMTJ's Top 20 Most Beautiful Swiss Rail Journeys:
Luzern ↔ Interlaken Ost
the Lotschberger route; Spiez ↔ Brig via Kandersteg
Spiez ↔ Gstaad (half way to Montreux)
Thun ↔ Interlaken Ost
Interlaken Ost ↔ Kleine Scheidegg via Grindelwald and Wengen; and on to Eigergletscher station, which is on the route between Kleine Scheidegg and Europe's highest station at Jungfraujoch.
Also included is the steam powered Brienz Rothorn Bahn, which almost certainly merits a place on that Top 20 list, but SMTJ has yet to travel by it.
Berner Oberland Pass users can make one return journey between Eigergletscher and Jungfraujoch for a flat rate price of CHF 90; which represents a discount of more than 50% on the standard return ticket price for a journey between Interlaken and Jungfraujoch
Also fully covered with the Berner-Oberland Pass are these railway routes:
Bern ↔ Thun
Bern ↔ Luzern via Langnau
Meiringen ↔ InterKirchen
Zweisimmen ↔ Lenk
And users of Berner-Oberland Pass can travel at a 50% rate on these railway routes, which are more distant from Interlaken:
Gstaad ↔ Montreux
Brig ↔ Andermatt and on to Goschenen
Luzern ↔ Engelberg
The validity area map, which also includes numerous post-bus routes, can be downloaded from this page; which also includes details of the cable cars and funiculars on which the pass users can either ride for free or travel at a 50% rate.
Comparison of Berner-Oberland Passs and Swiss Travel Passes:
An Adult 2nd Class 4 Day Berner-Oberland Pass = CHF 270
An Adult 2nd Class Swiss Travel pass for 4 days of consecutive travel = CHF 281.
So at face value the Swiss Travel Pass seems better value for money as in terms of area, all of Switzerland is included on the Swiss Travel Pass, the clue is in its name.
However, it is travelling on two specific railways which tips the balance more firmly in favour of the Berner-Oberland Pass:
(1) When travelling to/from Jungfraujoch, the Swiss Travel Pass only gives a 25% discount on the part of the journey between Grindelwad or LauterBrunnen and Jungfraujoch, so the cost of using a Swiss Travel Pass on this journey is around CHF 150.
In contrast Berner-Oberland Pass users can make a return journey from Interlaken to Jungfraujoch for CHF 90.
(2) A return journey to the summit of the Brienz Rothorn Bahn typically costs around CHF 90, Swiss Travel Passes receive a 50% discount on this journey, but the journey is covered by the Berner-Oberland Pass.
So Berner Oberland Pass users typically save more than CHF 100, compared to Swiss Travel Passes, if you travel on those two railways.
Though if you also want to travel on the numerous other railways across Switzerland, including those on which Berner Oberland Pass users only receive a 50% discount, the Swiss Travel Passes are the logical choice.
Buying Half Fare Cards + Berner Oberland Passes:
If you were to also purchase a Half Fare Card for visitors to Switzerland which costs CHF 120, you will then make the following savings when purchasing a Berner Oberland Pass:
3 day Pass = CHF 80
4 Day Pass = CHF 95
6 Day Pass = CHF 115
8 Day Pass = CHF 130
10 Day Pass = CHF 140
So unless you will be buying an 8 or 10 Day Pass, it doesn't seem worth it to also purchase a Half Fare Card, but the card will also provide a 50% discount on train journeys to and from the likes of Interlaken and Thun; or to/from other locations within the area of the Berner Oberland Pass validity.
So a combination of Half Fare Card + Berner Oberland + train tickets to and from destinations in the Berner-Oberland, can be cheaper overall.
Though you can't use the Half Fare Card to achieve a saving on that special rate, when using the Berner-Oberland pass to travel to and from Jungfraujoch.