Reservations are available on DB when taking EC, EC/IC, IC or ICE train services within Germany and to/from Germany; though the process differs depending on whether you will be travelling 1st or 2nd class, or want to make optional reservations when using Eurail and InterRail passes.
Adding the optional reservation when booking 2nd class tickets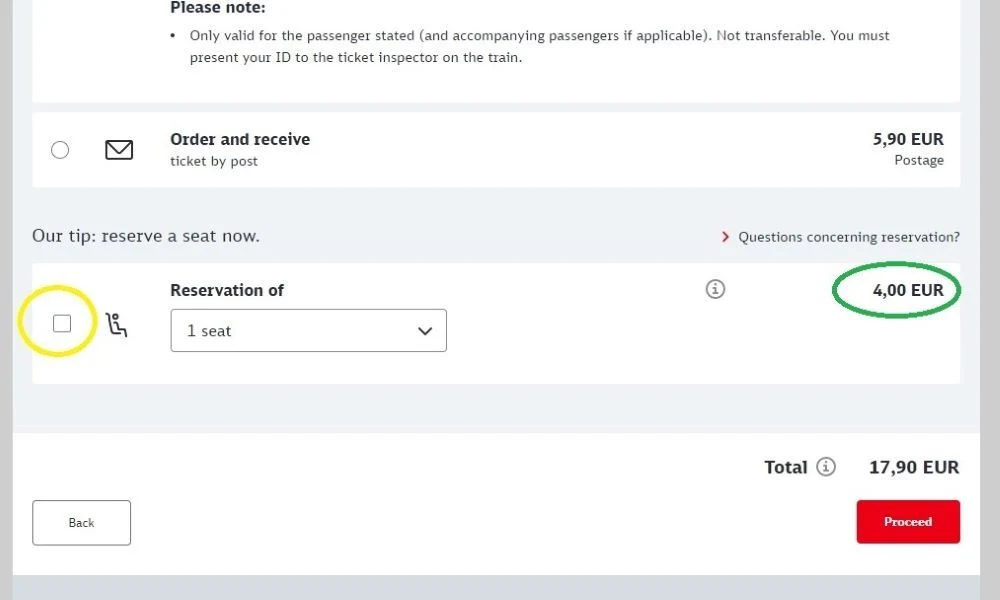 On the lower half of the delivery option page is where you can also add a seat(s) reservation when booking 2nd class tickets
What's been highlighted with the yellow circle on the above images, is that you need to be proactive and tick this box to add the reservation.
Circled in green is the €4 cost adding a seat reservation in 2nd class on ICE, EC and IC trains.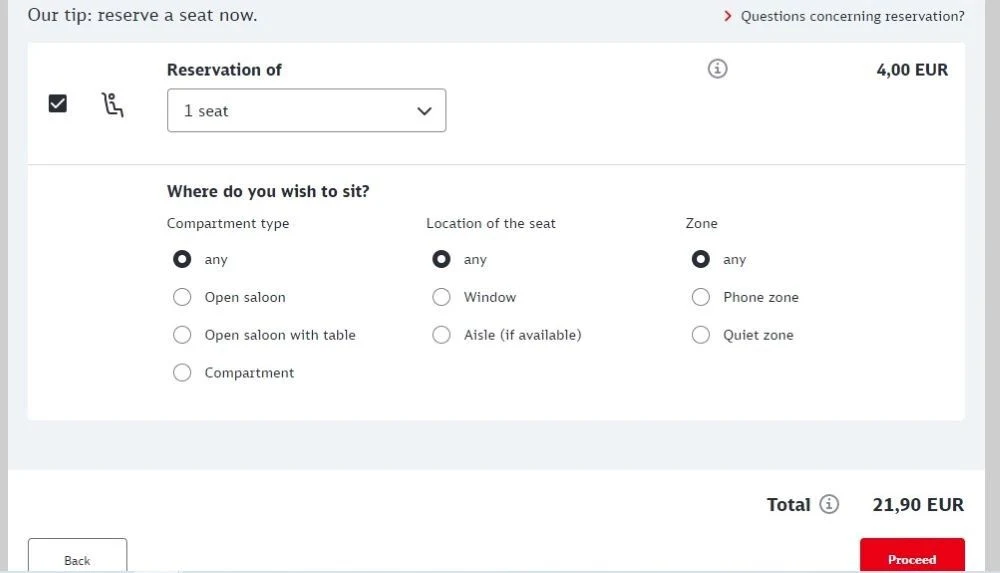 Having ticked the box you can then choose specific options, which may have been your preference regardless of whether you want to book a seat(s), including whether you want to travel in a compartment or in a 'Quiet Zone'.
If you'll be booking a combination of adult+child tickets, the family compartments become an option to choose from; if they're still available.
Note that the price above the Proceed button will have increased, because it now includes the costs of the reservation.
Making the reservation when booking 1st class tickets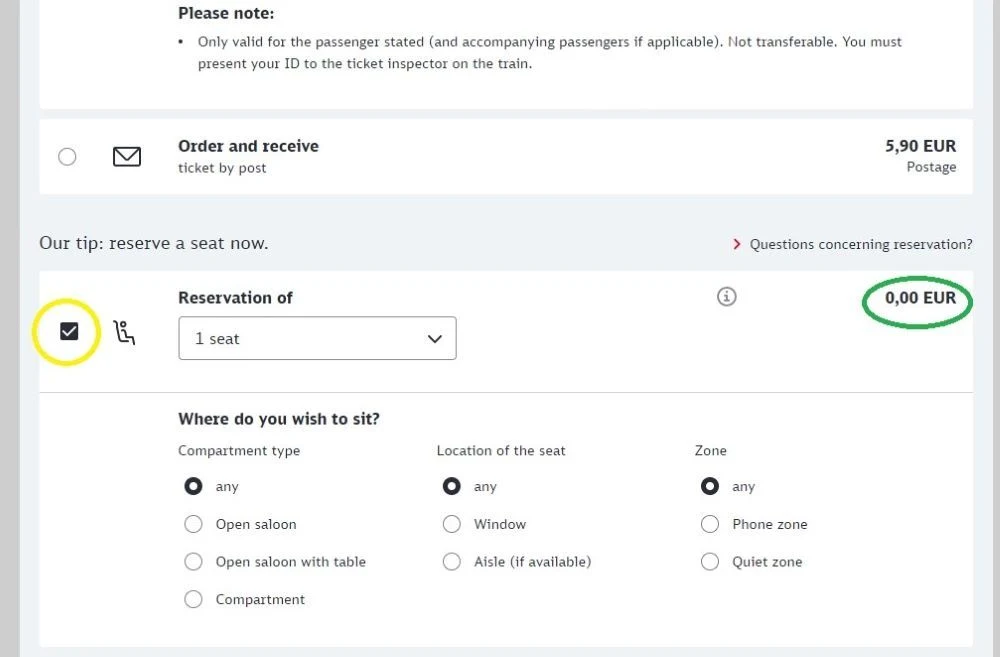 On the lower half of the delivery option page is where you can select your seating preferences when booking 1st class tickets
The process is subtly different to that when booking 2nd class tickets because seat reservations are automatically included when booking 1st class with DB.
What has been highlighted above is
Circled in yellow; the seat reservation box has been pre-selected, so all you have to do is select the seating preferences.
Circled in green; the cost is €0 because the seat reservation is complimentary when booking 1st class tickets.
Booking reservations separate to the ticket booking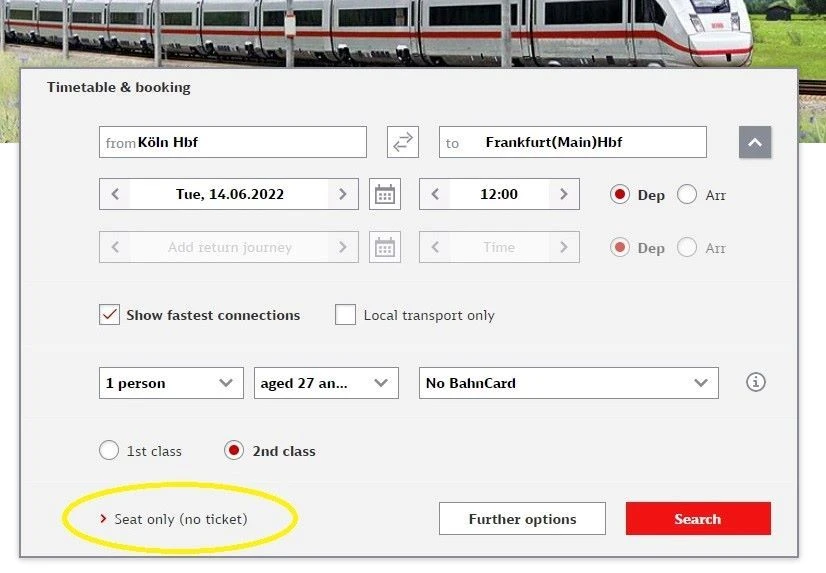 If you have previously booked a 2nd class ticket and now want to reserve, or will be travelling with a 1st or 2nd class rail pass and want to make an optional reservation, you can short-cut to the booking reservation screens.
On the DB home page/screen, enter the info into the journey search box, as though you were buying a ticket, but instead of clicking 'Search', instead click on 'Seat only (no ticket).
Note that 2nd class is the default, if you have a 1st class rail pass so want to book a reservation in 1st class, you can also click the 1st class button.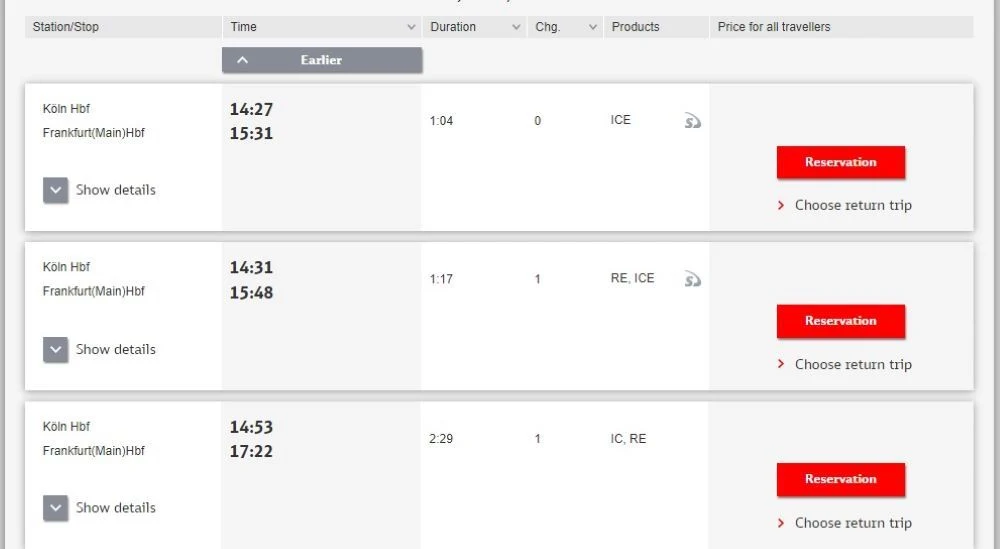 On the journey search results you can simply click on the red reservation buttons as the next stage of the purchase path; there is no difference in the fees between the types of trains for travel within Germany, so reservations on the ICE trains cost the same as the IC trains.
Having clicked on the red button, you will be at the same type of seating selection pages that those booking tickets will be taken to; though if you have a 1st class InterRail pass, the price you will see is €5.30.
Accessing and using the seating plans

Having made your selection of seating area preferences, a quirk of booking with DB is that if you see a row of three green boxes (marked with the 1), you will then be able to see the opportunity to select a specific seat (marked with the 2).
If one of your preferences isn't available, you'll see a red circle, so you'll have to go back to the previous screen and de-select it, or choose something else, though you can ensure that you'll be able to access the seating plan if you just leave all the options pre-selected as 'any' on that previous page.
Having clicked on 'select a seat', you will then see a seating plan, though what you will see will vary according to the type of train that will be used for your journey and whether you have opted to travel 1st or 2nd class.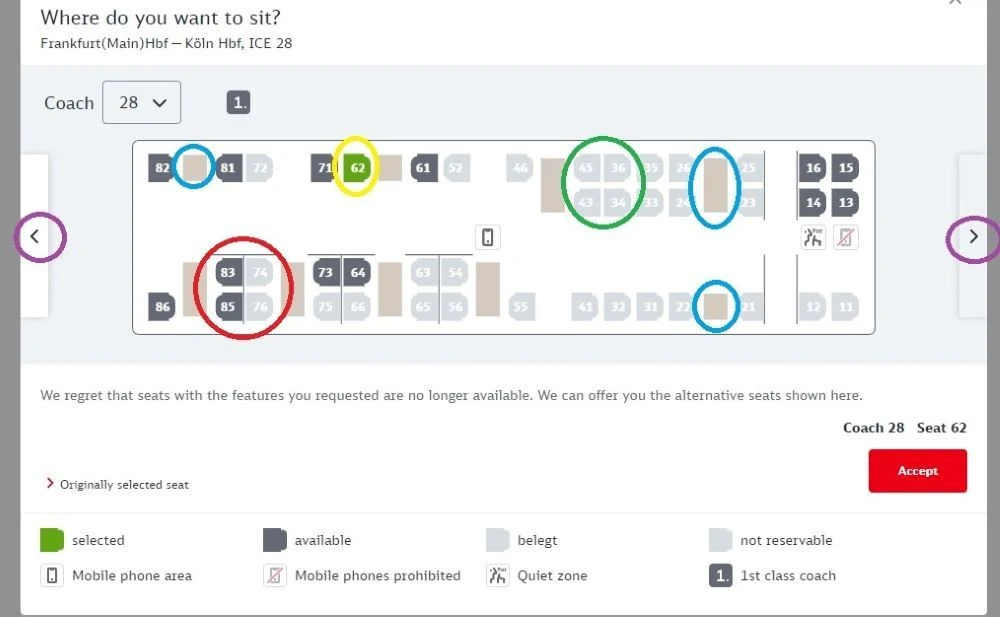 We have turned this into something of a rainbow, but what have highlighted is many of the common features you will see on all of the seating plans
the yellow circle = the default seat which DB has chosen for you, but you can change this by clicking another seat number
the green circle = the seats which are light grey are unavailable
the purple circles - you might conclude that you don't want to sit in this coach, so you can see which seats are available in other coaches by clicking on these arrows
the blue circles = these are tables, so if you want to sit at a table, target the seats on either side
Also circled in red is that this particular coach has also has seating compartments, the black lines indicate walls and door openings
If an ICE 1 or ICE 4 train is being used for the journey you have chosen, you will also likely see a direction of travel arrow.
What direction a seat is facing is shown by the darker grey border lines on either side of the seat numbers, if they're to the left of the number, the seat is facing forwards.