Tips for finding spare seats if you haven't made an optional reservation:
If you will be joining a train at its starting point:
To maximise your chances of finding a spare seat(s) it pays off to be one of the first passengers to board, so aim to be at the station, waiting ready for the departure to be confirmed, at least 20 mins before your train is due to leave.
Work out where the 1st or 2nd class coaches are and choose a coach in the middle of each of these parts of the train; the logic being that the reservation systems tend to work backwards or forward through a train when assigning seats.
So don't assume that more seats will be available at the front of the train, but particularly avoid boarding by some of the first sets of doors that you see; you want to reduce your number of competitors in the spare seat challenge, so take a less obvious path and board further along the train.
Then when you board, stow your bags in the first luggage rack you'll see, if need be you can move them later on, but for now, you'll want to avoid impeding your search for a seat.
Train operators use either electronic info displays or paper labels by each seat number, to display which seats are either available or occupied.
No paper label means an available seat, but if all the seats you can see are labelled, then check between which destinations the seat is reserved.
If it doesn't have the station where you're boarding on it, then you can claim it, being aware that you'll have to give it up at the station where the reservation has been made from – but don't worry about that for the moment.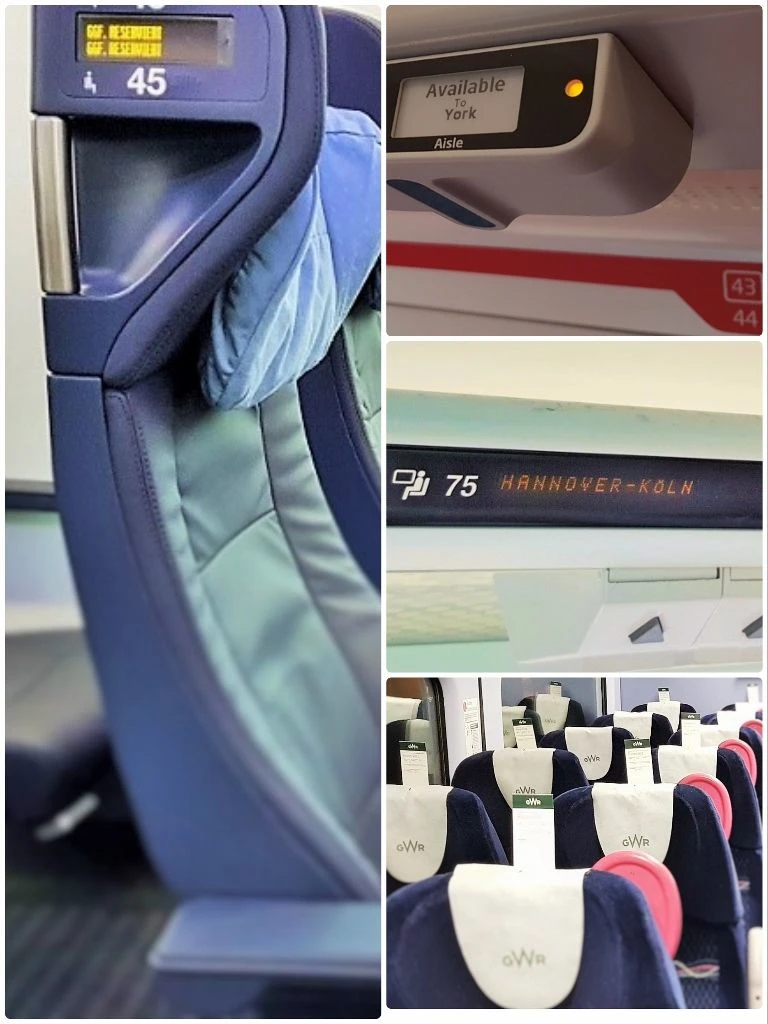 Similarly the electronic text will be specific to each seat number, so no text at all will ordinarily mean that the seat(s) is available.
But if you can see text on the display, don't assume that the seat ISN'T free, it may be indicating that the seat is reserved from a subsequent station.
Or it may be telling you that a seat is in fact available – on ICE trains 'bahn comfort' means an available seat.
Also take your time with reading this information, yes your fellow passengers will likely now be in the aisle behind you, impatient to get to their seat(s), but you're entitled to look for one of your own.
If you can't find anything but a seat(s) that isn't absolutely ideal, perhaps because it isn't by a window, or forward facing, or available for an entire journey, still claim it.
Then once the train has departed and all of your fellow passengers have settled down, leave something behind to stake your claim and then head off to search through the train, to see if you can find a better seat, which does meet all your criteria.
If need be check to see where your fellow passengers, who have reserved, will be leaving the train - when they do so, it's likely you'll be able to transfer to their seats.
If however, on boarding you discover that no seats are free at all in the coach/carriage that you have searched through, don't give up hope.
For some reason many people that have booked a journey and made a reservation, don't actually board the train, so those seat(s) which seemed to be reserved, may be available after all.
Wait a few minutes after the train has departed, to make sure a late boarding passenger won't be heading to their seat, and then check to see if such seats can be claimed by yours truly instead.
Though what you want to avoid is a scenario, in which you claim a reserved seat in the hope that the person who has booked it doesn't ultimately join the train, but then they turn up at the last moment; if you have to give up the seat in this scenario, all of the other options for finding a spare seat could have disappeared.
If there's still nothing free in the coach/carriage you have chosen at random, then leave your bags where they are for the moment – and head off to check if there are seats in another part of the train.
If you will be boarding a train at an intermediate station:
Your first priority is to put some distance between you and the other travellers waiting to board, so that you're not competing against them for available places.
Use any available info on the platform/track that will show which part of it the train will occupy when it arrives; you want to head along the platform/track away from the access point, most of your fellow travellers will be reluctant to move too far.
Then when you board don't assume that an unoccupied seat is in fact available, it may be reserved from the same station, so check first.
On a busy train, keep an eye on this seat, as the traveller who has reserved it may not board after all.
Also if you see something which suggests the seat is available, but the seat is already occupied, it doesn't mean that you can claim the seat; the person already in it, has done so, before you had the opportunity.