What makes exploring The Netherlands by train such a joy is that its major stations don't just serve the railway, they are also public-transport interchanges, with tram stops serving multiple routes either right outside their exits, or as at Den Haag Centraal, within the main station building.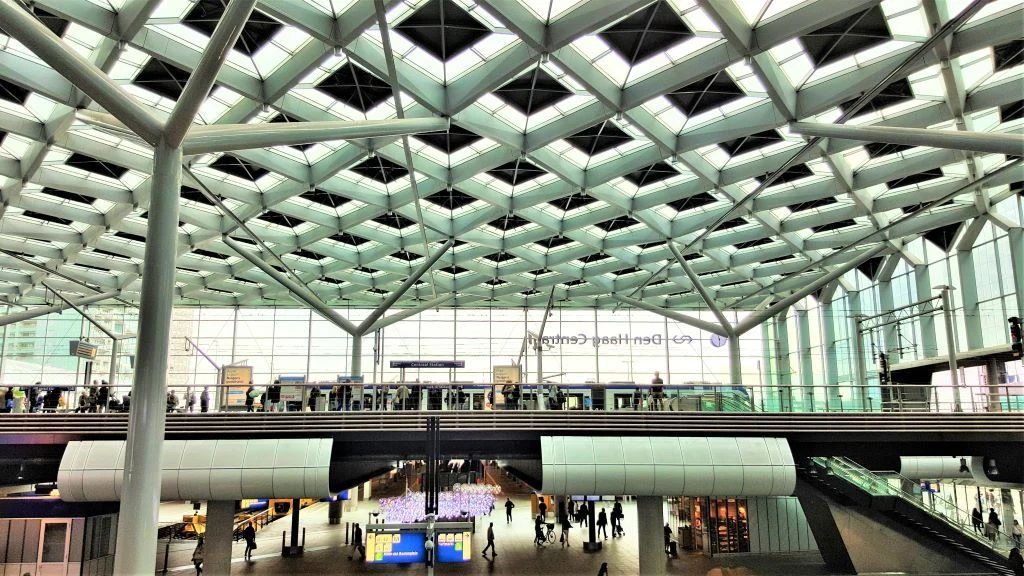 It may seems strange that this merits comment, but in British cities not blessed with tram networks, which is most of them, the best that one can hope for when exiting stations, are often bus stops down the road, or out of sight around the corner.
Though my faith in Amsterdam's public transport network was about to be tested, the plan was take a post-lunch tram back to the station and spend around 30 mins taking some snaps of Amsterdam Centraal, but instead I had to make a dash for the train because I'd got stuck in a tram-jam.
A broken down tram near the station was obviously causing a ripple effect and I was caught up the chaos, but my golden rule of always allowing 30 mins more than you'll think you'll ever need to take a train, came to the rescue.
It also led to a new strategy of capturing my images when I first arrive at a station instead of on my return.
I needed to hurry because I had reserved a seat on a Thalys train to Antwerpen, having made a booking on B-Europe; as it allows lucky users of Eurail and Interrail to book mandatory reservations for train travel to and from Belgium online.
Something I hadn't realised at the time, hence my somewhat frantic dash to the station, was that B-Europe takes the unconventional step of allowing Eurail and InterRail users to exchange reservations to alternative departures..
One of the myths I'm hoping to shatter with my endeavours, is the assumption that the need to reserve on some European express trains, means that Eurail and InterRail passes are now poor value for money.
In my case for the defence I would argue that the balance only tips against avoiding such trains for long distance journeys, when the rail pass reservation fee is more than €15; and the Thalys trains are one of only a handful of services which fall into this category.
But I'd ignored SMTJ's well-intentioned advice and paid up for the Thalys when I could have travelled on to Antwerpen on an IC train at no extra cost at all, because the main route between The Netherlands and Belgium is blessed with two services, the Thalys and the IC trains.
Provided not because 'competition' is deemed to be necessary, but because doing so is just logical.
Thanks to my eccentric itinerary, the fact that I'd be saving an hour on the journey came close to justifying paying for the reservation fee, but what tipped the balance was the opportunity to experience Dutch high speed rail travel.