Soon after departure a person wearing a DB uniform entered so I attempted to show them my rail pass when actually what they wanted to know was whether I wanted breakfast.
A benefit of travelling 1st class on ICE trains is this at seat service, you can request virtually any item available in the bar car to be brought to you by the catering attendant.
Though travellers from the UK in particular should be aware that none of the items you ask for are complimentary; in Britain the food and drink available in 1st class on most long distance trains is included in the ticket price.
I was on a high speed train, but I wasn't travelling at high speed, the ICE had travelled on Germany's fastest high speed railway (HSR) from Frankfurt to Koln, but as is the case on many routes taken by ICE trains, it was spending a large chunk of its journey on conventional tracks.
A key factor in the selection of the location of Germany's HSRs was to provide straight line alternatives to routes which curved around hills, to then give a double benefit to journey times of faster trains and less distance to be travelled.
There are no hills between Koln and the Dutch border, instead there are a string of large towns which would have driven the costs of construction of a HSR to unjustifiable levels.
It also takes less than three hours to travel from Koln to Amsterdam, reducing a longer journey time to around 3hr 30mins has proved to be a tipping point from air to rail, so that justification also doesn't apply to this particular route.
What DB has also no doubt realised, is that on this route it is the opportunity to travel anywhere on a train as fabulous as the ICE 3, which provides an incentive to make a train journey.
From Duisburg I was sharing the front of train lounge with a family making a day-trip to Amsterdam, and discovered that a key factor in their choosing train over car for their excursion, was the opportunity to travel on an ICE 3.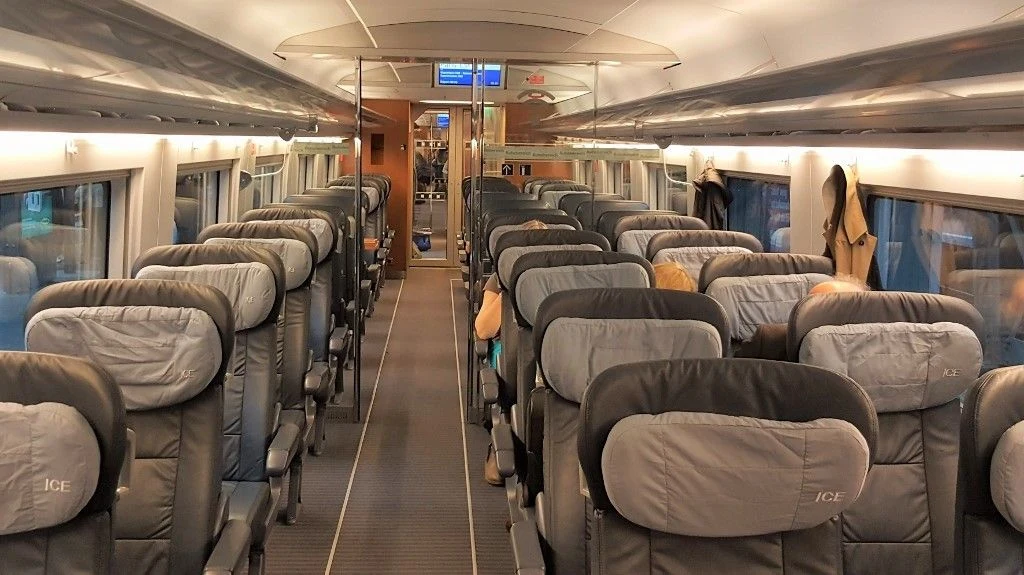 Personal preferences and one's erm dimensions are obviously factors regarding how comfortable a train is or isn't, but I think I'm on safe ground in declaring that ICE 3 trains have a rare quality of having a wow factor both externally and internally.
Something that can be appreciated at no extra charge by Eurail and InterRail pass users; as long as they can find a seat.