The ticket gates at Gatwick are equipped with Oyster Card readers, so you can use these cards to travel to and from the airport, though the amount of money deducted from the card will match the ticket costs, so you won't save money by using Oyster.
Four train operating companies, Gatwick Express, GWR, Southern and Thameslink, provide the services to and from Gatwick Airport station, where the station is directly linked to the South Terminal and it is connected to the North Terminal by a free people mover.
1: taking the Gatwick Express
Gatwick Express trains share the route to and from London Victoria station with Southern trains, but they are more expensive and therefore require specific tickets.
Two factors set them apart from the Southern trains:
They have additional luggage storage.
They are faster because they are non-stop.
The journey time is scheduled to be 31 minutes, but because they share the same busy tracks as the Southern trains, they are typically only two minutes faster in comparison.
The biggest plus point of taking the Gatwick Express over the Southern trains, used to be that the only stations served by the Gatwick Express trains were Gatwick and Victoria.
When that was the case, they were quieter than the Southern services, so seats could be guaranteed on any departure.
However, the Gatwick Express is now typically a London Victoria <> Brighton service, which happens to call at the airport; though this situation may be temporary and to do with the building work at Gatwick Airport station, which has currently reduced its capacity.
So when heading to London, on arrival at the airport station, the Gatwick Express trains can be busy with travellers who have already boarded in Brighton.
Also because the Gatwick Express trains typically no longer commence their journeys at the airport, the train will only spend a minute at the platform, so there's typically no early boarding available of a near empty train with guaranteed space on the luggage racks.
At Victoria, the Gatwick Express trains share the station with the Southern services, though they have a dedicated pair of platforms /tracks.
These platforms also have a dedicated taxi rank, so when taking a taxi to Victoria station, tell the driver if you want to take the Gatwick Express.
To/from Brighton:
The Gatwick Express now also provides a faster rail link between the airport and Brighton than the alternative Thamesklink services, but the journey time difference can be as little as 3 minutes.
2: taking the GWR trains
GWR provides a daily service which typically departs hourly for Reading.
At Reading station step-free connections are available to a multitude of destinations to the west and north-west of London including Bath, Birmingham, Bristol, Cardiff, Cheltenham, Coventry, Exeter, Manchester, Oxford and Worcester.
These trains to Reading also call in Guilford; and they reverse direction on departure from Redhill.
3: taking the Southern trains
Southern Railway offers a more frequent and typically cheaper alternative for journeys between Gatwick Airport and London Victoria station than the Gatwick Express.
Southern also provides the train service between the airport and the major interchange station of Clapham Junction where connections are available to a swathe of locations in west and north London including Hampstead, Putney, Richmond, Shepherd's Bush and Wimbledon.
In the other direction Southern Railway lives up to its name by providing direct trains between Gatwick and multiple locations on the South Coast including Bexhill, Bognor Regis, Chichester, Eastbourne, Hastings, Littlehampton, Southampton and Worthing.
4: taking the Thameslink trains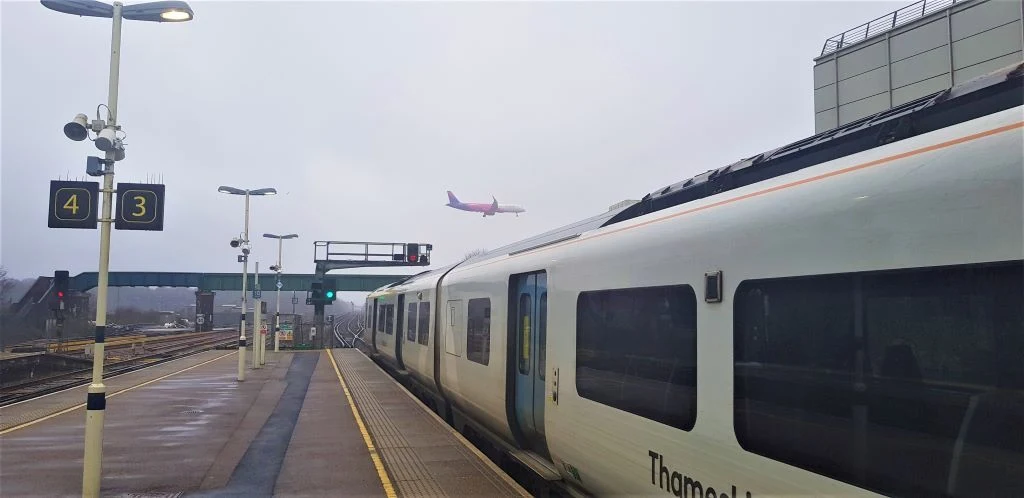 Up to 8 Thameslink trains per hour connect Gatwick Airport to multiple stations in central London:
All Thameslink trains from Gatwick call at all of these stations before heading on to destinations to the north of London.
One or two trains per hour link the airport to Cambridge and Peterborough.
Up to four trains per hour go to Bedford and these trains all call at the station which serves Luton Airport.
So when heading to central London by Thameslink trains board trains heading to Bedford, Cambridge and Peterborough.
If you will be taking the train to central London it's a good idea to look up the location of your ultimate end destination in the city centre to get an idea of whether heading to Victoria station, or a station served by the Thameslink trains, will be the best option.
Don't assume that taking the Gatwick Express and then a taxi or Underground will be the quickest or easiest route.
Though if you will be travelling from Gatwick to London with heavy luggage by train, something worth knowing is that London Bridge, St Pancras and Victoria stations have dedicated taxi ranks, but Blackfriars, City Thameslink and Farringdon stations don't have them.
If you want to connect into the Elizabeth Line at Farringdon, its stations at Paddington and Liverpool Street have taxi ranks, but they're not available at Bond Street and Tottenham Court Road.