Trains from Glasgow to destinations to the north, including Aberdeen, Dundee, Fort William, Inverness, Oban, Perth and Stirling, depart from a separate station named Glasgow Queen Street.
It is a 12 – 25 min walk away from Glasgow Central on mainly traffic-free roads, the route is:
1. Use the main exit from Glasgow Central on to Gordon Street, the exit that will be directly ahead when you step off a train.
2. Turn right on exiting the station and walk down Gordon Street until you come to Buchanan Street and turn left on to it.
3. Walk down Buchanan Street until you come to West George Street, which will be on the right; ahead of you on Buchanan Street, you will see a glass box, which is one of the entrances to Buchanan Street subway station.
4. Steps away on West George Street, you'll see the new entrance to Glasgow Queen Street station.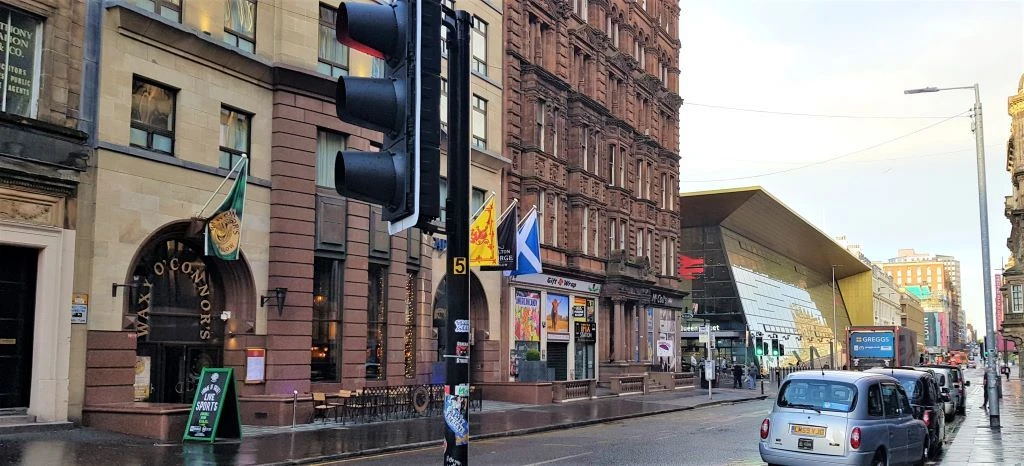 Or if you don't want to walk, there is a free shuttle bus which leaves from a stop outside the Gordon Street exit, every 15 mins.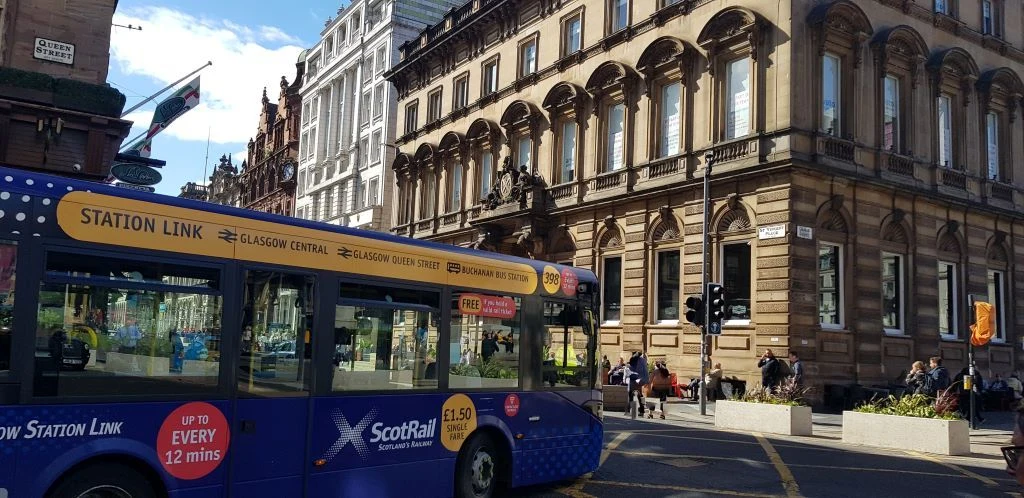 Alternatives to making the transfer between stations in Glasgow:
Although it's feasible to avoid having to make the transfer between Central and Queen Street station at all, when travelling by train between destinations to the north and south of Glasgow.
There are now more trains than used to be the norm between cities including Birmingham, Carlisle Lancaster and Manchester to Edinburgh Haymarket station; and there are trains between that station in Edinburgh (and Edinburgh Waverley) and Aberdeen, Dundee, Inverness, Perth and Stirling.
If you will be travelling via Glasgow by daytime train to or from the West Highland Line and its services to Fort William, Mallaig and Oban, an option is to travel between Glasgow Central and Dalmuir and make connections there with the West Highland Line trains.
There are 2 – 4 x trains per hour between Glasgow Central and Dalmuir, they depart from platform (track) 17 in the underground part of Glasgow Central.