Many European countries including Austria, France, Germany, Italy, Poland, Spain, Sweden and The Czech Republic use a train numbering system.
The national train operators in these and other countries assign a three, four or five digit numbers to each train journey they operate.
These numbers are retained throughout the course of a journey, therefore they are different to arrival and departure times - so take care not to confuse them.
For example, the national train operator in Italy, Trenitalia, assigns the number '8809' to the Frecciabianca train service which departs daily from Milano at 10:35 and arrives at its final destination, Bari at 20:35.
This number 8809 is assigned to the train during its entire journey.
So the 12:42 train from Bologna to Bari will also have the number 8809, it is the same train that left Milano at 10:35.
If you will be travelling from Rimini to Pescara at 13:40, you will also be travelling on train 8809, it will have come from Milano and will be travelling on beyond Pescara to Bari
Being aware of this train number can be important, an Italian traveller could think 'I'm taking train number 8809 to Bari' instead of 'I'm taking the 10:35 train to Bari'.
If you have a 'train-specific' ticket (see above) for a journey in a country that uses train numbers, this train number will be printed on your ticket.
It will be a different number to the departure time, but at the station it can help you to find your train.
In many countries including Austria, France, Germany, Italy and Spain, the train number is included on the electronic departure screens at stations, in addition to the departure times.
On the image below of a departure board at an Italian station, the train numbers are the four and five digit numbers in the column second from the left.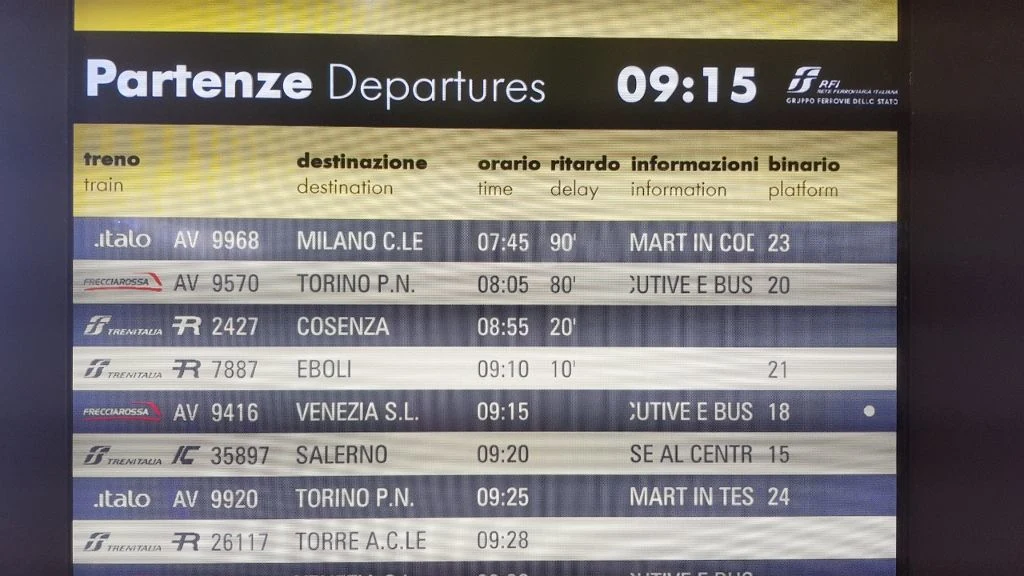 When looking at a departure board, you might not see the station you are heading to listed on the information, but what you will see is the train number.
So matching the train number on your ticket, to the train number on the departure screen, can be the best method of working out which train you need to take - and which platform/track it will be leaving from.