If you will be heading to a swathe of destinations including Arundel, Brighton, Chichester, Eastbourne, Hove, Lewes, Portsmouth and Worthing from Victoria station you will be taking a train operated by Southern Railway.
As seat reservations aren't available on these trains, if you want to be sure of a seat for your journey, it's best to be on the concourse and ready to board with your ticket, a minimum of 15 minutes before the train you will be taking will be leaving.
The platform (track) number for each departure will appear on the main departure board around 10 – 15 minutes prior to departure.
The details of the destination and the trains calling points will appear first, the departures move across these screens in sequential order, so the details of the train will initially appear on the right.
The platform (track) number will be added later without any fanfare, it usually won't be announced, so keep an eye on the screens.
These longer-distance Southern trains usually depart from platforms (tracks) 15 -19 which are furthest away from the main entrances to the station and the Underground
However, if you'll be heading into Victoria train station from the Coach Station, you can use the side entrance on Buckingham Palace Road, which is right by the access to these platforms.
When you're on the main concourse platforms (tracks) 15 -19 are out of sight, they are accessed by a passage way which is to the right of the departure board, on the other side of the escalators which lead up to the Victoria Place mall (don't go up the escalators).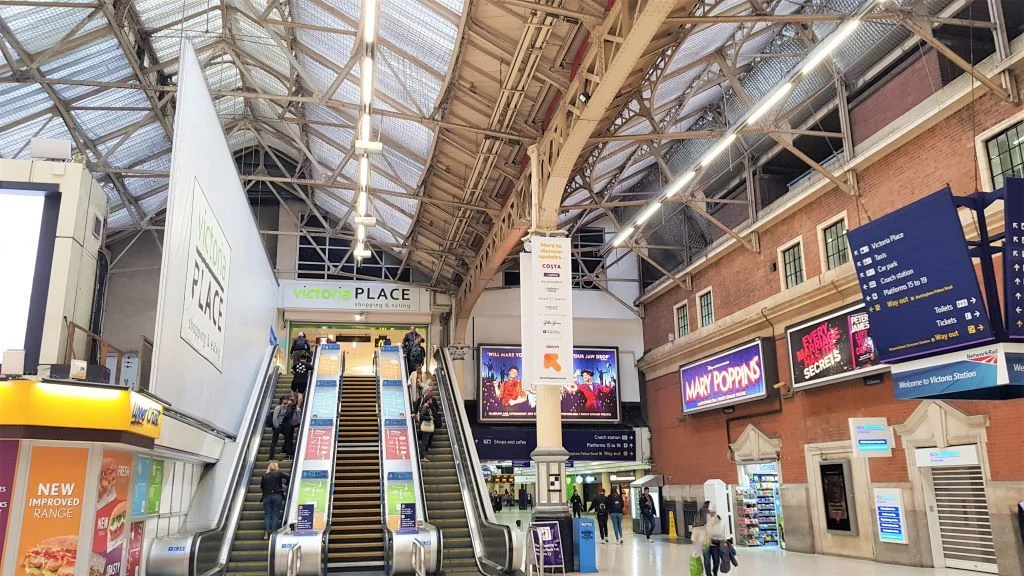 Something else to watch out for is that two trains serving different destinations can be joined together on departure from Victoria, the trains will be divided during the journey.
So pay attention to any information alerting you to where specific coaches on a train will be heading to.
And then where you are walking along the platform to board the train some basic counting may be required, so that you can find the 'front four coaches' etc.
Also the trains nearest to the entrances to the platform may not be going anywhere soon, but the train you will be taking will be leaving from the far end of the platform.
This is also another reason for not having to hurry against the clock when taking a train from Victoria.
Many of the trains leaving Victoria are 12 coaches long, so having to rush down to the more distant far end of a platform is a scenario best avoided.