How you travel with a non-folding bike in Germany depends on the type of train service you will be traveling by.
On the IC and EC trains
Taking a non-folding bike on board an IC train, or an EC train for a journey within Germany:
All of the express trains used for these services have bike racks, so to take a bike on board you need to both purchase a ticket AND a bike reservation, in order to secure a space for your bike.
The flat rate fee, irrespective of distance, for a combined bike ticket and reservation is €9.
Travelling with a non-folding bike on an ICE train
Only the newer ICE4 trains have been equipped with bike racks, so it's not possible to travel with a non-folding bike when ICE 1, ICE 2, ICE 3 or ICE-T trains are used on a departure.
That €9 ticket and reservation fee also applies for journeys by ICE4 trains.
IC trains are nearly always available as alternatives to those ICE trains on which bikes aren't permitted.
On local and regional trains
Non-folding bikes can generally be taken on board Regio and S-Bahn trains, but specific terms and conditions such as, bikes being restricted at certain times of day (rush hours) and whether bike tickets are required, are dependent on the region in which you will be travelling.
The specific terms can also include only needing to purchase a bike ticket during rush hours, or bike tickets being valid for a day's travel and not just on specific departures.
So it's worth clicking on the links to the specific regional information on this page on the DB website– using Google Translate if need be.
Though what's universal when taking bike on to any Regio train service is that bike spaces can't be reserved in advance, so you cannot ever be 100% certain that space will be available on the train that you have boarded.
If it's not, then it's likely that the conductor will ask you to leave the train.
Making use of the DB website
Though what can hugely help with making sense of all the above - and for planning journeys which avoid the ICE trains that don't permit non-folding bikes on board, is to make use of the additional journey search options on the DB website.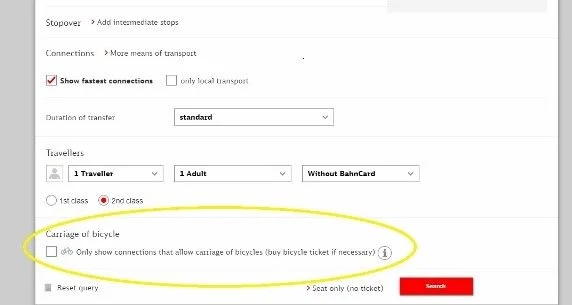 You need to click on the circled button on the home page BEFORE you look up a journey.
Then having doing so, towards the bottom of the screen, you will then see.