This info should remove much of the stress of using a hauptbahnhof for the first time.
Part One - Working out which gleis (platform/track) your train will be departing from:
Every hauptbahnhof will have at least one large electronic blue departure board that shows the details of subsequent departures.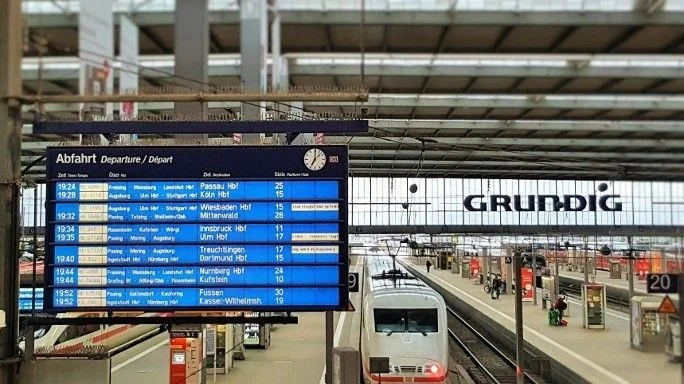 Although the information on these screens won't include every station that a train will be calling at.
In additional to electronic information displays that can be seen on the concourses, the stations have yellow paper departure (Abfahrt) posters.
They list every train departing from a particular station that day in consecutive order and show which gleis (platform/track) each train will (should) be leaving from.
At stations with frequent departures, these posters can be particularly useful as they will show departures that aren't yet shown on the main departure screens.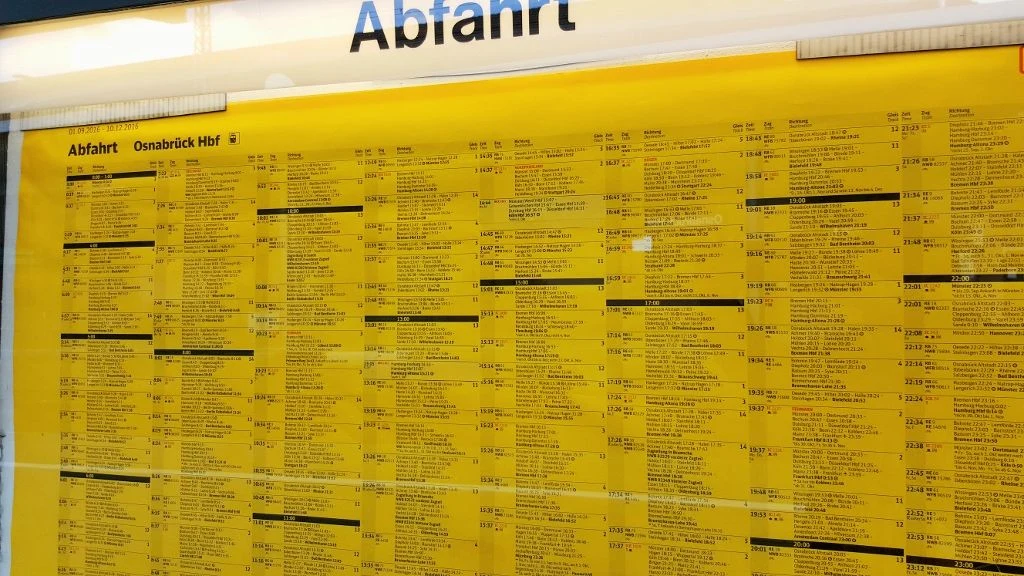 These Abfahrt posters also feature more stations that a train will call at than the blue departure screens.
So if you can't see the station you're heading to on the main departure screens, check the posters.
However, when train schedules are being altered, due to works on the line etc, the information on the electronic screens, supersedes the information on the departure posters.
These yellow 'Abfarht' sheets are particularly useful if you will be taking a Regio train service.
Check the arrival time at your destination because some Regio trains can be much faster than others, so a later departure can overtake an earlier train, and actually arrive first.
Part Two - Using the 'Zone' information:
The gleis/platforms are split into zones that are marked by letters; this zone information is normally* only available on the platforms/gleis.
It is not usually shown on the departure screens that can be seen in the station buildings/concourses. (*Hamburg Hbf is an exception).
The electronic departure screens on each specific platform/gleis (pictured below) show the formation of the next train to depart.
So you can use them to check in which zone the 1st and 2nd class coaches of the train will be located, when the train arrives.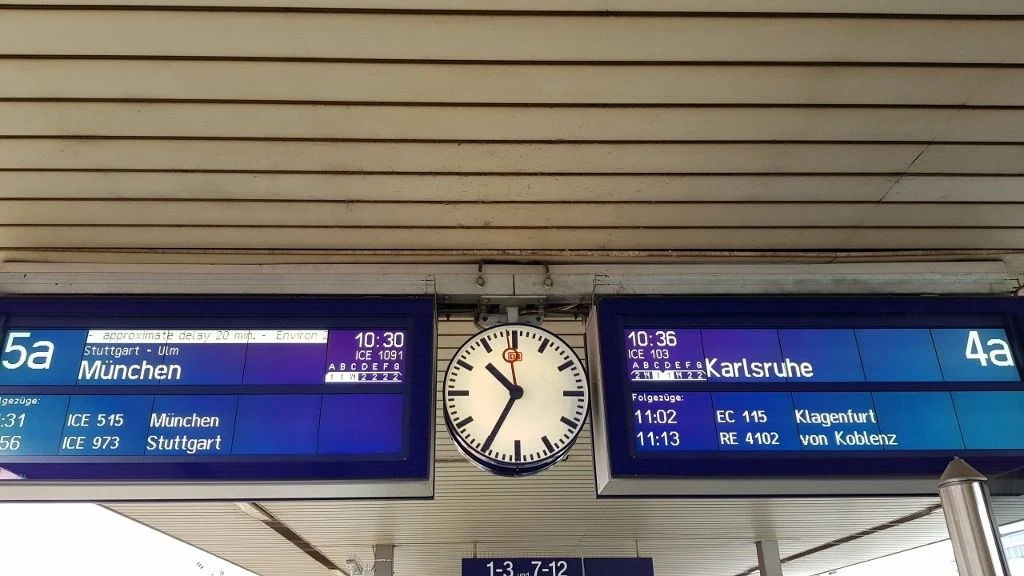 There will also be a poster sheet on the platform the Wagenreihungsplan, which will show the formations of the express trains that will depart from that specific platform every day.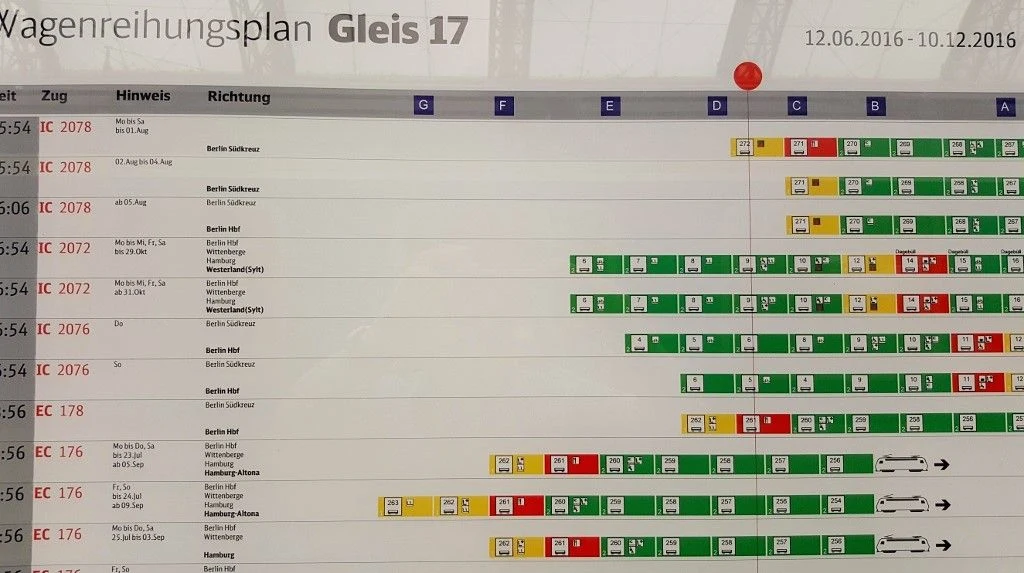 If you have a reservation then this poster will show in which zone each specific coach on a train departure SHOULD be located.
Should; because it's not unusual for trains to be back-to-front - and if this is at the case, a specific coach in which your reservation is located, will be some distance from where you have waited on the platform/gleis.
1st class can also be at the opposite end of the platform/gleis to where you are waiting.
The red circle indicates in which zone of the platform/track/gleis you are located.
Look out for changes to Schedules:
Look out for any scrolling white text on an electronic departure screen on a gleis (platform/track), it can be alerting passengers to changes to the normal schedule, particularly delays.
Delay information is translated into English, but the information can also include a different final destination to the norm, or whether a train will be arriving back to front.
If you can't make sense of this information, ask someone, it can be too important to ignore.
This scrolling white text can be also be alerting travellers to the fact that a train may be arriving back to front, meaning that 1st coaches will be at the opposite ends of the gleis (platforms/tracks) to that shown on the Wagenreihungsplan.
We also recommend checking out this fabulously detailed GUIDE to understanding the departure info at German stations
Unlike the departure screens, the station announcements, including news that a train will be arriving back to front, are in German only