Some coaches have open plan saloon seats and others have compartments.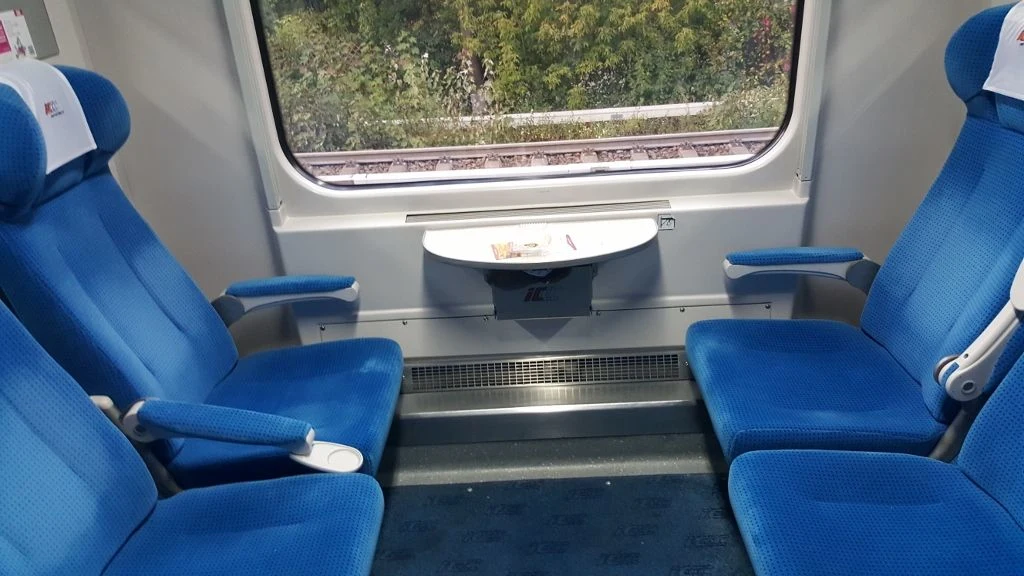 The older coaches are looking tired and as a result toilets, light switches, power-sockets and Wi-Fi can be out-of-order.
If your 1st class seat is in one of these older coaches, you'll wonder why you are paying a premium, compared to those travelling 2nd class in one of the more modern coaches.
Though a minor benefit of being 1st class is the complimentary drink and snacks for the Polish part of the journey.
(Though they pale in comparison to the complimentary light meals served on the top tier Polish EIP trains).
Also the free Wi-Fi is seemingly a lot more reliable in Germany.
So not the smartest of European train services, and they can also be very crowded - particularly in both directions between Warszawa and Poznan.
Something else to be aware of is that the coach, in which the restaurant car is located is divided, a third of the space is used for seats at which meals aren't served.
If possible avoid these seats if you want a quiet trip, you won't be particularly shielded from the chatter in the restaurant seats.
Also the patrons of the restaurant car will be walking passed these seats to access the toilet - and those that haven't lucked out on finding a seat in the restaurant car, also tend to sit on the floor or stand in this part of the coach.