Despite the long length of the Franco-Spanish border, The Pyrenees mountain range is a formidable barrier to railway construction, so the trains from France to Spain take one of only four routes.
the route from Perpignan to Figueres Vilifant:
This is the high speed line between France and Spain and the only trains which use it are the services, which are branded RENFE-SNCF; and they take these three routes (the Toulouse to Barcelona service has been discontinued:
(1) Two or Four trains per day take this route; Paris Gare de Lyon – Valence – Nimes – Montpellier-St Roch – (Beziérs) - Narbonne – Perpignan – Figueres-Vilafant – Girona – Barcelona
Two trains per day is the year round service, but up to four trains per day operate in the summer.
(2) One train per day takes this route; Lyon – Valence – Nimes – Montpellier-St Roch – Beziérs - Narbonne – Perpignan – Figueres-Vilafant – Girona – Barcelona
(3) One train per day takes this route; Marseille – Avignon TGV – Nimes – Montpellier-St Roch – Beziérs - Narbonne – Perpignan – Figueres-Vilafant – Girona – Barcelona - Zaragoza – Madrid
This the only direct train to the Spanish capital from France.
These RENFE-SNCF services are popular trains, particularly in the summer months, on Fridays and Sundays in particular between the beginning of June until early September, tickets can sell out weeks in advance.
And when tickets are still available, the more limited quota of rail pass reservations on these trains can be sold out.
the route from Cerbere to Port Bou
The express trains from France to Spain on the Mediterranean end of the border, take the parallel high speed line, but local and regional trains still travel on this older and scenic route, though Cerbére on the French side of the border, to Port Bou on the Spanish side of the border.
From Port Bou, generally good connections of around 40 minutes are available into Regional Express OR Media Distancia trains to Barcelona via Figueres and Girona; users of Eurail and InterRail seats don't have reserve seats on the MD trains on this route, which is an exception to the usual rule.
Though the French TER trains to Port Bou, commence their journeys at various cities in France, depending at which time and on what day of the week you will be travelling.
There's seemingly little logic applied to this pattern of train services, for example at weekends there are multiple trains from Toulouse to Port Bou via Narbonne and Perpignan, but none on Monday - Friday.
A particularly useful service, worth targeting if you want to avoid the high speed trains is the daily TER train to Port Bou, which departs from Avignon Centre (11:35); Nimes (12:14); Montpellier St-Roch (12:53); Beziers (13:40) and Narbonne (14:05).
According to the European Rail Timetable this train has a 15 - 20min connection into a train on to Barcelona.
On Fridays and Sunday nights and certain other days during the year, an Intercités De Nuit train departs Paris Austerlitz for Cerbere, it also makes morning calls at Collioure and Port-Vendres.
Until very recently it travelled over the border to terminate in Port Bou, but because the Spanish authorities have decreed that the French rail drivers need to be fluent in Spanish, it now terminates in Cerbere.
However, fairly simple connections in Cerbere and Port Bou are available when travelling on to Barcelona via Figueres and Girona, it can be an overnight alternative to the daytime high-speed trains when travelling from Paris to Barcelona.
the route from Hendaye to Irun
Over on the Atlantic Coast two very different train services are typically available between Hendaye in France and the Spanish town of Irun
(1) Up to two x TGV trains per day take this route Paris-Montparnasse – Bordeaux – Bayonne – Biarritz – Hendaye – Irun.
These trains are currently being terminated in Hendaye
(2) The alternative service of local Euskotren trains on from Hendaye/Hendaia are much more frequent.
Hourly local 'Euskotren' trains connect Hendaye to San Sebastian/Donastia via Irun.
Connect in San Sebastian/Donastia for other 'Euskotren' trains to Bilbao; this is by far the easiest option for accessing this city from France by train
​​
the route from La Tour De Carol to Puigcerda: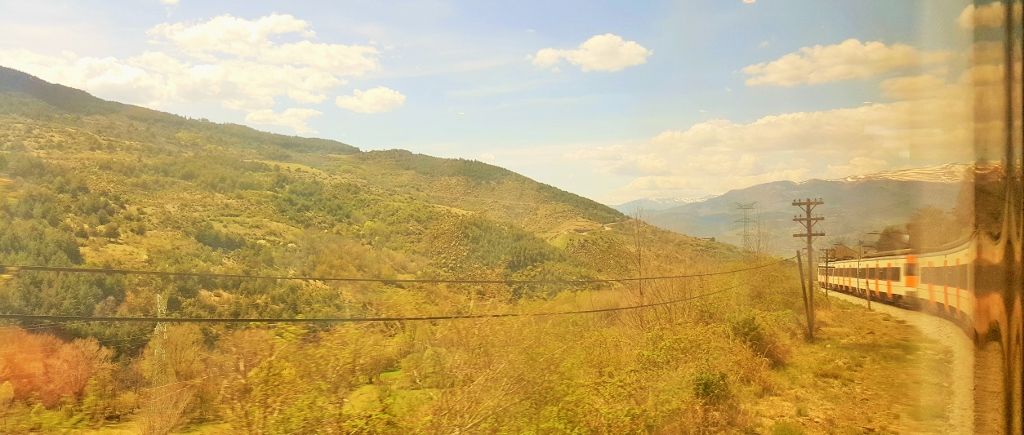 This route snakes its way through a mountain pass in the middle of The Pyrenees.
Five trains per day depart typically depart from French village of La Tour De Carol and head for Barcelona via Puigcerda and Vic.
TER trains link Toulouse to La Tour De Carol via Foix.
However, as can be too often the case when trying to take local/regional trains across the border from France to Spain, the Spanish timetable has recently been revised, but with no corresponding alterations on the French side of the border.
As a result some trains for Barcelona now depart La Tour De Carol less than 10 mins before a train from Toulouse will arrive, despite both routes having infrequent services.
Though it is still possible to take most spectacular railway route from France to Spain; and if you have a rail pass, you don't have to pay any reservation fees; but now the only good connections are those which typically involve departing from Toulouse at 09:45 on Monday to Friday and at 15:47 daily.
And for those who want to maximise the area's opportunities to take scenic rail journeys the very special yellow trains sporadically head to La Tour De Carol from Villefranche-Vernet-les-Bains station, which they share with TER trains which travel from and to Perpignan.