the high speed line from Figueres to Perpignan
The only trains which take this route are the services branded RENFE-SNCF, Renfe is the national rail operator in Spain and the SNCF is the national rail operator on France.
These can be busy trains, tickets can sell out months in advance particularly on summer Friday and Sundays; which also inevitably impacts on the availability of seats which can be reserved by Eurail and InterRail users.
They take these three routes; pre-pandemic there was a fourth route from Barcelona to Toulouse, but it hasn't operated for the past two years.
(1) Two or Four* trains per day take this route: Barcelona – Girona - Figueres-Vilafant - Perpignan – Narbonne - (Beziérs) - Montpellier-St Roch – Nimes - Valence – Paris Gare de Lyon
*=Two trains per day is the year round service, but up to four trains per day operate in the summer.
(2) One train per day takes this route: Barcelona – Girona - Figueres-Vilafant - Perpignan – Narbonne - Beziers - Montpellier-St Roch – Nimes – Valence - Lyon
(3) One train per day takes this route: Madrid - Zaragoza – Barcelona – Girona - Figueres-Vilafant - Perpignan – Narbonne - Beziers - Montpellier-St Roch – Nimes – Avignon TGV – Aix-en-Provence TGV - Marseille
This is the only direct train which travels between Madrid and France.
the route from Port Bou to Cerbere on the Mediterranean coast
The express trains from Spain to France on the Mediterranean coast take the high speed line, but French regional TER trains still travel on this older scenic route, from Port Bou on the Spanish side of the border to Cerbére on the French side of the border; and beyond to other cities in south-west France including Perpignan, Narbonne, Carcassonne, Beziers, Montpellier, Nimes and Avignon.
The timetable on the French side of the border is irregular, trains generally depart hourly, but some trains on from Port Bou only depart on Monday to Friday and others are only available at weekends.
There are also regional Spanish trains from Barcelona to Port Bou, many of which have tightly timed connections of under 10 mins into the trains on to France.
The departure times of the trains from Barcelona can also be different on a Sat/Sun than those on a weekday.
These trains to Port Bou also call at Passeig de Gràcia station, which is much closer to the heart of Barcelona than Sants station.
If tickets have sold out on the RENFE-SNCF high speed services from Spain to France, slower alternatives will be available
Particularly useful are the trains on to Avignon from Port Bou which typically depart at 14:04 (not Saturdays) and 16:04 daily.
Connecting trains usually depart Barcelona at 10:46 and 12:46 on Sat/Sun and at 11:16 and 13:16 on Monday to Friday.
Overnight from Barcelona to Paris:
A train to the French border town of Cerbere typically departs Barcelona Sants daily at 15:16 and it will arrive in Cerbere around 1hr 10 mins before the departure of an overnight Intercités de Nuit train to Paris at 19:07.
This train is available nightly until Sept 2nd,. but from then it typically departs on Fridays, Saturdays and Sundays, it is typically scheduled to arrive in Paris-Austerlitz station at 07:20.
the route from Irun to Hendaia / Hendaye on the Atlantic coast
Hourly local 'Euskotren' trains connect San Sebastian/Donastia to Hendaia/Hendaye via Irun.
Other hourly 'Euskotren' trains connect Bilbao to San Sebastian/Donastia.
So this can be a somewhat odd train journey across a border, as you'll be travelling on a train which has an aura of a metro service, but it is frequent and efficient.
In Hendaia/Hendaye the main railway station is steps away from the Euskotren terminus, so you can then connect into;
TGVs to Paris which call in Biarritz and Bayonne and Bordeaux
TER trains, on which rail pass users don't have to pay reservation fees, which take the same route as far as Bordeaux
A daily direct TER train to Toulouse which typically departs daily at 10:19 and also calls in Pau, Lourdes and Tarbes; other connections to this route to Toulouse are available from Bayonne.
Though plan connections with care as none of these train services on from Hendaye/Hendaia depart frequently.
the route from Puigcerda to Latour De Carol: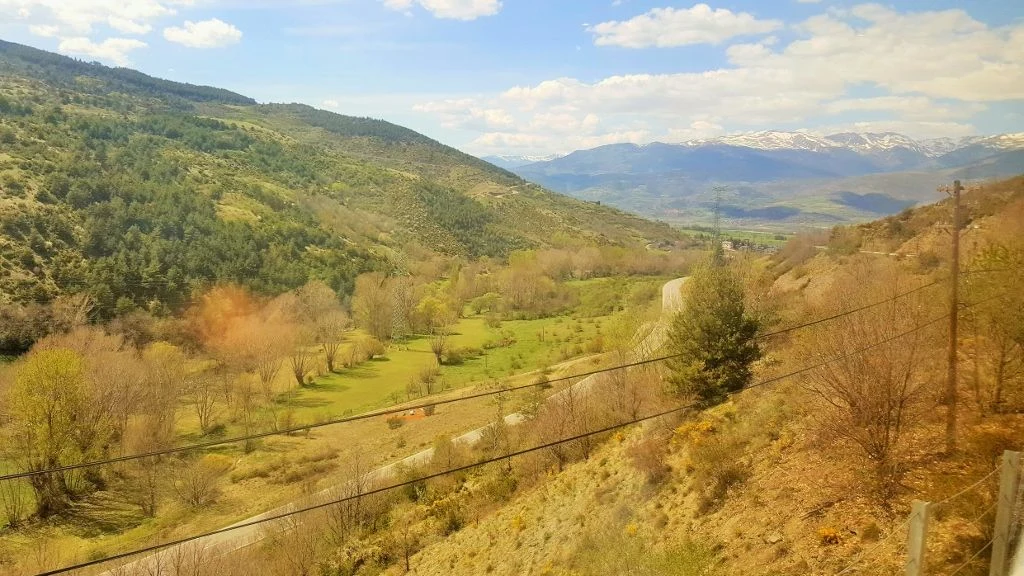 This route threads a spectacular path through the Pyrenees mountain range.
Five trains per day depart Barcelona for Latour De Carol via Vic and Puigcerda; they are in effect commuter trains in Barcelona, that escape the city and head over the French border.
TER trains link La Tour De Carol to Toulouse on a route Foix, though the connections aren't generally conveniently timed.
Depart Barcelona at 06:01 or 08:31 and you'll be hanging around La Tour De Carol for around 1hr 45mins, though you can cut this time down by around an hour if you leave Barcelona at 11:31 on Sat/Sun or at 14:31 on Monday to Friday.
Your efforts will be rewarded as the middle section of the journey is fabulous.