A holiday in Erfurt! Really?
Well for railway fans Erfurt is pretty much a dream destination, because if taking a high speed ICE train to visit a railway attraction is your idea of perfect day out, then the city is a wonderful base location.
Erfurt is also pretty much an ideal spot for those with an interest in seeing beautiful cities, iconic 20th century architecture and social history, so as SMTJ has all those things, plus steam railways, on our list of interests, Erfurt had to be included in this guide!
Erfurt itself is something of a hidden gem when considering lists of Germany's most beautiful cities, but what put it on the rail travel map in 2017 was the opening of the Erfurt-Nuremberg high speed railway, because as a consequence the city's fabulous, reconstructed station became a key hub on the German rail network.
Thereby making Erfurt an ideal base location for exploring by train.
It now takes less than an hour to travel from Erfurt to beautiful Bamberg by ICE, but steam train fans can connect in Bamberg for a train on to Neuenmarkt-Wisberg, because across the street from its station is the location of Germany's national steam railway museum!
Also under an hour from Erfurt on an ICE train is magnificent Leipzig and from its fabulous main station it's possible to take trains on to:
- the Doellnitzbahn steam railway, thanks to an easy connection at Oschatz station;
- the city of Dessau, the home of the Bauhaus design movement for art and architecture enthusiasts (connections for Dessau are also available at Lutherstadt-Wittenburg).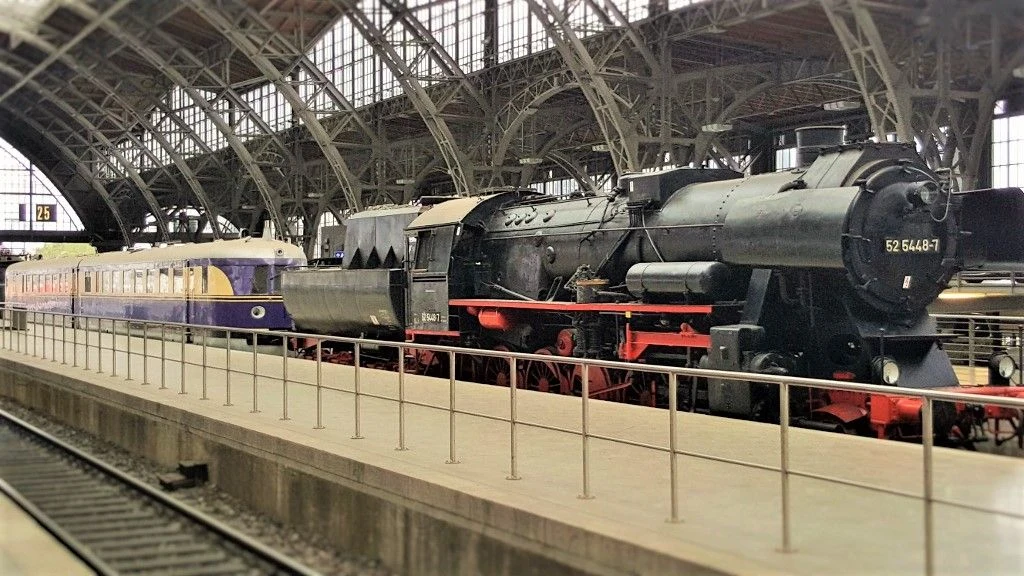 A 1hr 20min journey by Germany's fastest train will take you from Erfurt to fabulous Nurnberg, the city offers much to see and do, but for rail fans its main attraction is Germany's national rail museum, which is right by the city's main station.
The DB Museum also has a secondary location in the city of Halle and this happens to be at the end of the high speed line which travels north from Erfurt.
That high speed line has brought the beautiful city of Dresden to within a two hour train ride from Erfurt.
Public transport fans should take tram line/route 6 from Dresden-Neustadt station to its Schillerplatz stop and then walk across the charming bridge to Kornerplatz, because from there it's possible to take a ride on, not one, but two fabulous railways!
For steam railway fans, a short hop by local trains from Dresden on line S1 to Radebeul Ost station enables an easy connection to the fabulous Lobnitzgrundbahn.
So for those with a passion for railways Erfurt offers easy access to three railway museums and two steam railways in eastern Saxony, but the icing on the cake for rail fans is that Erfurt also has hourly direct trains to Nordhasuen, where afer a 75 minute journey, an easy connection is available to the starting point of the fabulous Harz Mountain Railway.
For those for whom railway attractions have limited appeal, but visiting beautiful cities is on the must do list, what will be of interest are the string of fabulous locations, strung like jewels along the original main railway line which passes through Erfurt.
A train ride east of less than 15 minutes will transport you to fascinating Weimar, while brief trips by Regio trains heading west link Erfurt to both Gotha and Eisenach, meaning that both of those beautiful cities can easily be seen on one day trip.