When heading east from Innsbruck the scenery isn't crème de la crème standard, but if you take a local, Rex or EuroCity train the sights of the distant mountains are very pleasant
If you take a seat on the right-hand side, for much of the train journey from Innsbruck to Kuftstein you can also see the views over the River Inn; the video was taken from a train travelling in the opposite direction.
But I was on board the early morning ICE train to Munich, which along with the fast Railjets heading east, it takes a relatively new route between Innsbruck and Worgl which is mainly in tunnels.
Despite being a new-ish line, neither the ICEs, or Railjets, attain a 'high-speed' of more than 250 km/h, because in order to speed up the Innsbruck <> Vienna/Wien route, the national rail operator OBB has opted to create a series of diversions from the old route, which makes the journey faster by straightening out the most extreme curves.
Not as transformative as building a high-speed line, but also no doubt much cheaper and more cost-effective overall.
I was diverting off my direct route in order to pay a visit to Munchen Hbf, because it is a main hub of the European international rail network, so the sooner I could experience it for myself, the better.
What I discovered is that the most alluring aspect of the station is the romantic list of destinations that can travelled to from Munich by train, including Bologna, Budapest, Ljubljana, Paris, Vienna, Venice, Verona, Zagreb and Zurich.
The station itself has the aura of a warehouse, though work has now begun to transform into a showcase for 21st century train travel.
So Munchen Hbf is, for the time being, not beautiful, but it is eminently practical, it is a terminus station, which means that when making connections, the only effort required is walking from one train to another, but the one outstanding quality of Munchen Hbf is the choice of food and drink outlets.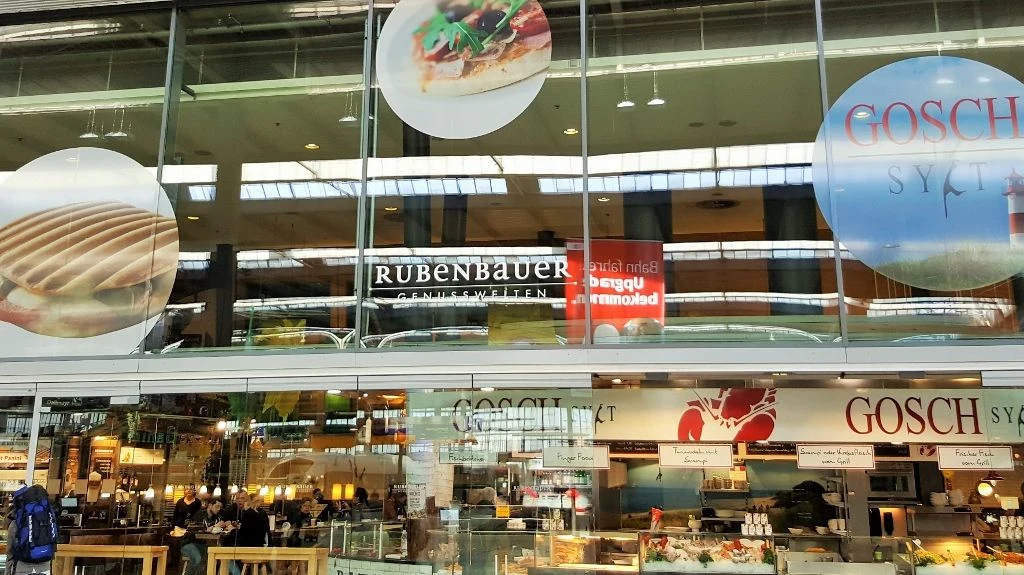 There is a lot to love about travelling by train in Germany, but there is one aspect of meeting a traveller's needs at which German hauptbahnhofs excel and that is that they are great locations in which to buy snacks.
Fresh sandwiches, salads, juices, noodles, sushi, kebabs, roast chicken, falafels, vegan options, curries and seemingly endless types of wurst are typically available at the largest German stations, but in Munchen Hbf there are dozens of counters to choose from.