Even by my usual standards, I made a somewhat eccentric decision prior to setting off for Verona Porta Nuova station.
In my bags I'd packed a smart set of clothes, just in case I encountered a millionaire on my first class travel experience who would then ask me to join them at the opera.
Tragically this scenario hadn't come to pass so a smart-ish pair of trousers and a nice shirt were by now, amongst the few items of clothing in my luggage that hadn't had food or drink spilled down them during my travels.
So I decided that this smart trouser and shirt combo would be the ideal wardrobe for a Friday spent travelling around Italy in Business Class.
What can get overlooked in 'Are 1st Class rail passes worth the money' debates, is that the price difference between a day of rail pass use (including mandatory reservations) vs tickets, tend to be greater when travelling first class, so the savings tends to be greater when using First Class passes.
If you will be travelling long-distances around Italy by taking high speed Frecce trains, then using a 2nd class rail pass can be comparatively poor value for money.
Even when making a three hour plus journey the cost per day of using a Second Class pass can be more expensive than the cheapest Super Economy tickets and that's before paying the €10 mandatory reservation fee for the Frecce trains.
But if you use a First Class pass to travel on a Frecce train, not only do you also pay the same €10 fee, but your seats will be in Executive/Business Class and on the Frecciarossa and Frecciarossa 100 trains, this is not one, but two levels of comfort up from Standard Class.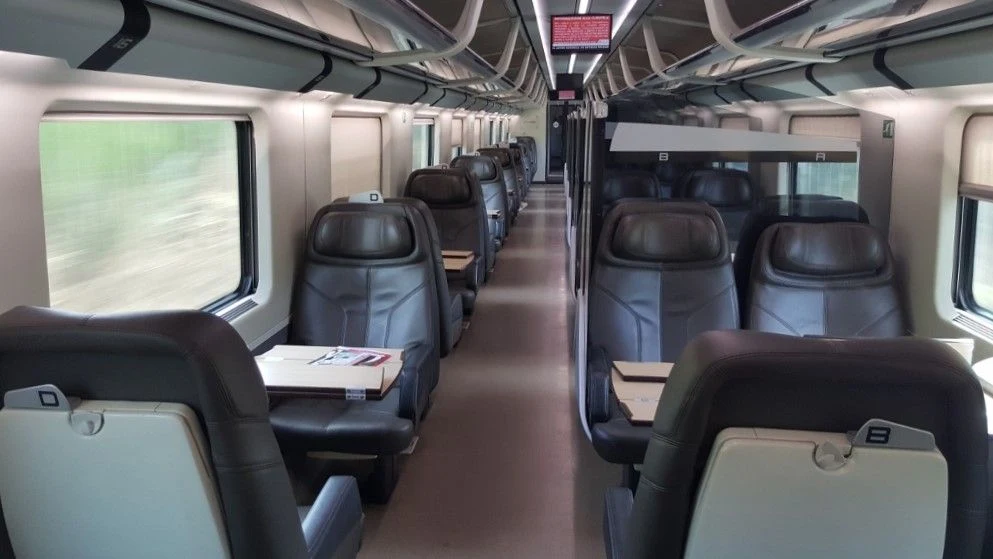 So using a First Class pass for a long-distance journey by Frecce train is pretty much the ultimate rail pass experience and it can be great value for money, the cheapest Business Class tickets tend to cost more than three times the price of a day of rail pass use + the reservation fee.
Having said all of that I wouldn't ordinarily have paid the €10 reservation fee for the journey from Verona to Milano.
On this route, the Frecce trains are less than 45min faster than taking the Regionale trains on which no reservation fees are payable, but for my exceptionally bonkers agenda, every minute was precious, so I used the Trenitalia ticket machine to obtain the reservation.
To Milano Centrale
The location of Verona's Porta Nuova station is typical of many stations in Italy, because it on the other side of what are, or would have been, the city walls which surround the gorgeous centres of most Italian towns.
So when travelling to many Italian towns and cities by train, you often have to walk for 15-20 minutes from the station, initially through an unexciting modern part of town, until you come to the city walls and then you pass through them into a wonderland.
Because of this distance, the views from the exits at Italian stations are rarely alluring, Venezia S.Lucia and Firenze S.M.Novella are the notable exceptions, but all that can be seen on exiting Verona Porta Nuova is the view of the bus station.
Which to be fair is a welcome addition to forecourt of Verona Porta Nuova, as the heart of the city is a 25 – 30 min walk, though have change with you as coins are required to purchase the bus tickets.
On route to Milano, shortly after departure from Desenzano del Garda station I was awe-struck by the view of Lake Garda over to the right, with the turquoise sheen of the water surrounded by glistening mountain peaks, but I'm beginning to wonder if this was a mirage.
What made this view particularly astonishing is that I'd made this particular journey several times before, when using beautiful Vicenza as a base for exploring northern Italy by train, and hadn't seen this sight then, and also didn't experience it when making a repeat journey.
An illustration that showcases that to fully appreciate the views from a railway journey, the weather conditions sometimes have to be just right.
I didn't have to travel through Milano, the number of trains on the Verona to Roma route has actually increased in recent years, but I wasn't going to miss the opportunity to capture some images of the awe-inspiring Milano Centrale railway station.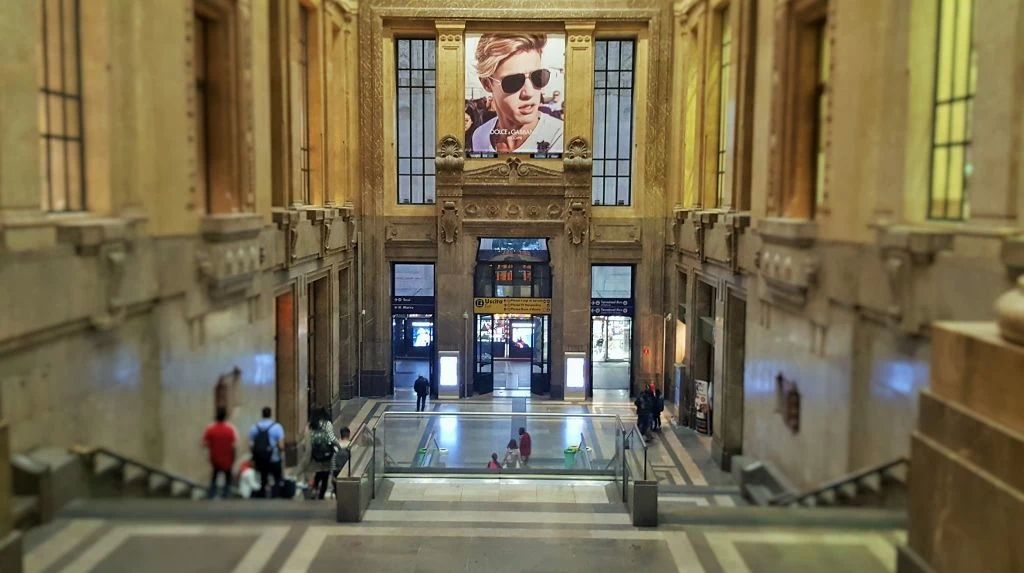 On this occasion I was also able to experience how efficiently its ticket counters are operated, after a Trenitalia ticket machine had rejected my bank card.
Back then I was a naive InterRailer and hadn't worked out that I didn't have to make a separate visit to a Trenitalia ticket machine, each time I needed to purchase a seat reservation for a journey by the Frecce trains.
So on the concourse at Milano Centrale, I'd made may way to a ticket machine conveniently located on the main concourse, just steps away from where the trains on to Roma would be leaving from.
I could have, if I'd known at the time, purchased all the reservations I'd need for that day back in Verona.
I looked up the journey on the machine and discovered that rather thrillingly a non-stop train to Roma would be leaving in 25 mins.
Another tick in the box for using rail passes in Italy, is that tickets for these faster trains tend to be more expensive, but the rail pass reservations fees are a flat rate, regardless of speed and distance.
But the computer said no, my card wasn't valid, so I dashed down to the travel desk to hastily pay with cash, but was dismayed to discover around 30 people ahead of me.
That train to Roma would now be leaving in less than 20mins, so I resigned myself to spending an additional hour in Milano.
However, just fifteen minutes later, thanks to some uber-efficient ticket counter staff, I was dashing along the binario to board the train, with the sweet smell of success.
These days my bank would have sent me an SMS to warn me that it suspected fraudulent use of my card, thanks to my smuggler-esque dash around Europe, but at the time it had chosen an inconvenient moment to put a stop on my account.
All was sorted after a frantic call to my bank from the Business Class on the Frecciarossa train, but with my smart shirt on, my fellow travellers probably assumed that I was an international business executive, and it's nice to blend in sometimes.