I left the train from Malmo at Norreport station because Kobenhavn is one of several European cities in which the main station isn't in the city centre, but another secondary station is.
It is only a one station hop from Norreport to Kongens Nytorv, the nearest metro station to Nyhavn, the harborside dining area in Copenhagen, pictured at the top of the page.
I could have reached it on foot but the Copenhagen Metro turned out to be a jewel of a public transport system.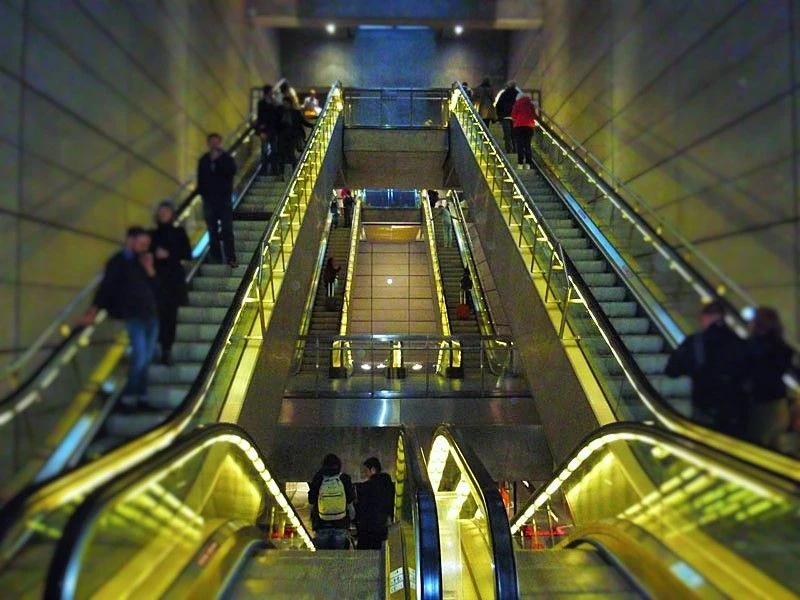 It was worth persevering with trying to make sense of the English translations on the metro ticket machine, though after five minutes of befuddlement, I wasn't wholly convinced I'd actully bought the correct ticket.
Something to keep in mind is that rail passes aren't ever valid on metro systems, but it can be easy to get in the habit of not having to buy a ticket before boarding any train, particularly at stations with no ticket barriers.
Having enjoyed a lovely supper in a waterside cafe, I then retraced my steps back to Norreport and boarded one of Copenhagen's local trains; an S-Tog.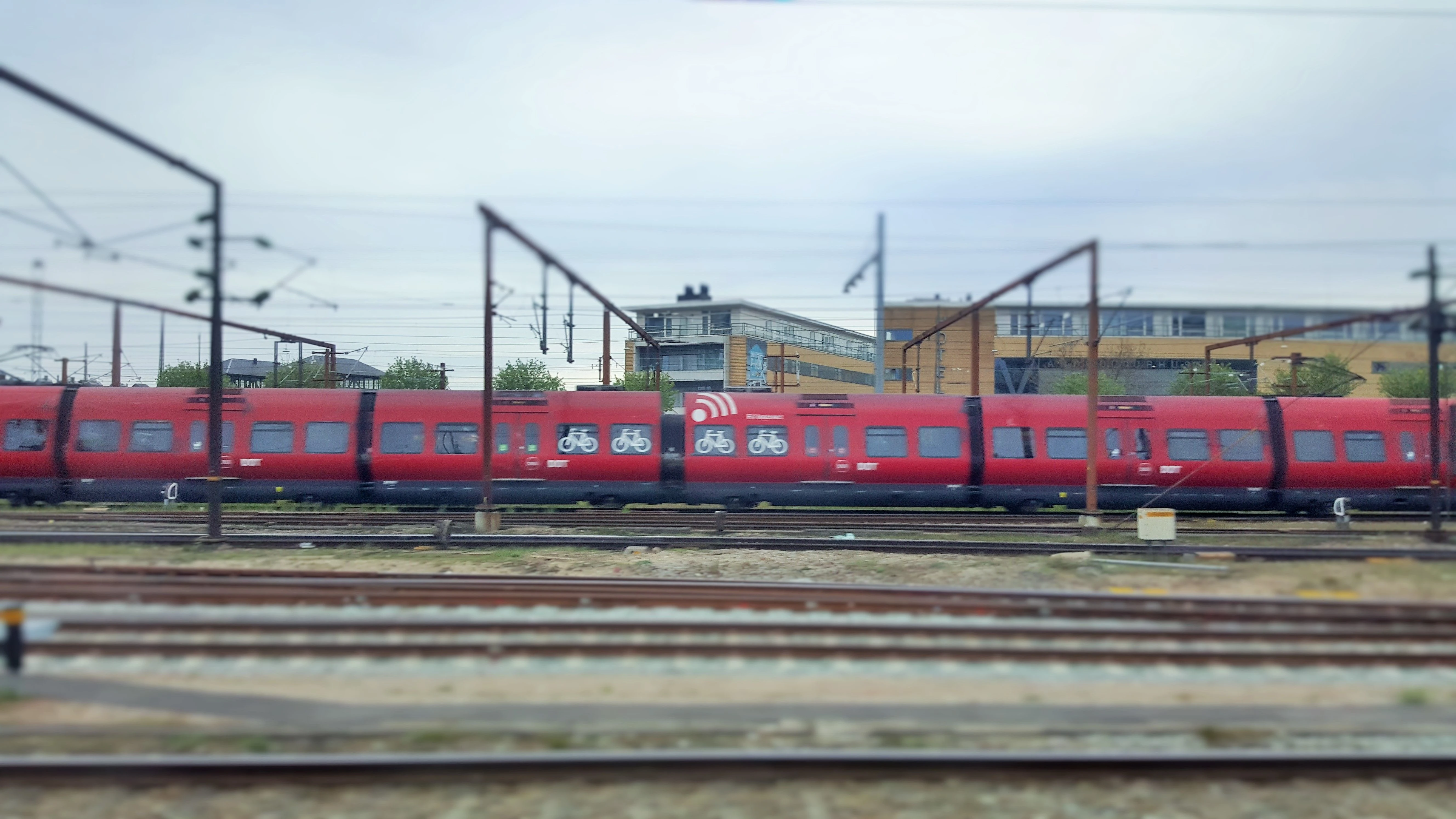 What I like about these trains is their uniformity with a livery that makes them stand out from the other trains operated by DSB; the national rail operator in Denmark.
All too often local trains in cities in Europe can be non-descript, but not here.
What can also be forgotten when using rail passes in cities is that you can more often than not hop on the local trains; the RER trains in Paris are one of the few non-Metro train services on which rail passes can't be used.
A tip when using a rail pass is to not make an assumption that a city's local and Metro trains are essentially the same, so be aware of the differences, particularly in locations where cross-city local trains can be used alternatives to metros, such as Berlin, Copenhagen, Hamburg, Munich and Milan and now London.
Wonderful Kobenhavn H
When they were constructed back in the middle of the 19th century many large stations drew justifiable comparisons with cathedrals, with trains coming and going from spaces which resembled naves, but after night fall Kobenhavn H station has an aura of a large parish church.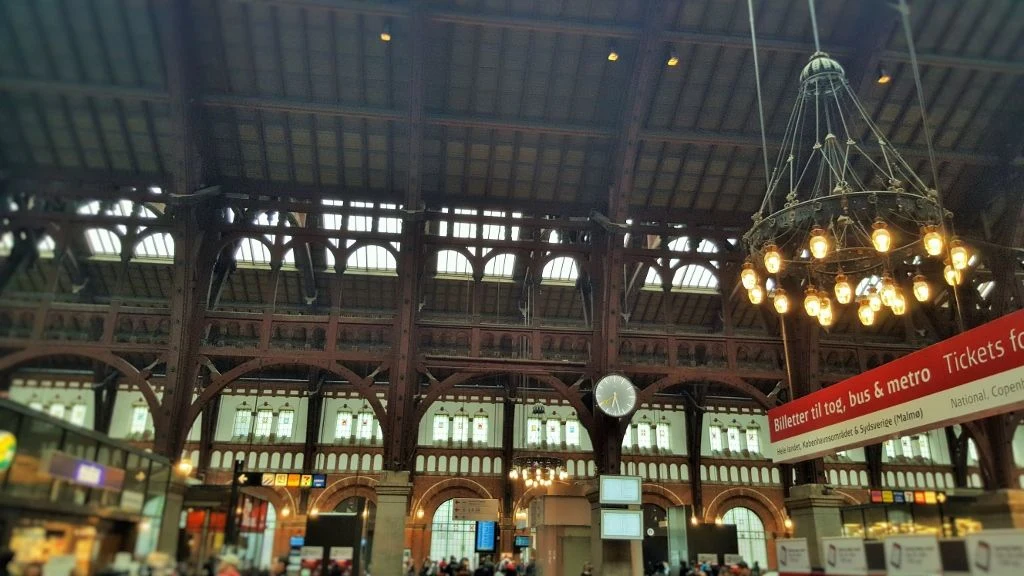 The subtle, but reassuring lighting, seemed to have a calming influence as the station was as hushed as a library.
As is more common than not, at major European stations, the train arrivals and departures are not announced at all, let alone in English, so the first time user has to rely on the train departure information that's available on the concourse.
Though the absolute need for this is becoming eclipsed by the online resources and mobile apps on which train departures can be looked up, but if you are making a brief visit to a city, going to the bother of downloading an app in order to look up one or two train times seems like a lot of effort for comparatively little reward.
If you can either find a wi-fi hotspot or don't mind utilising your international roaming, you can look up train departures online, but you'll also need a resource which can also tell you the platform (track) number.
And real-time, and therefore wholly accurate train departure info, can be buried in the depths of search engines.
I know because I have often had do dive down in order to bring such resources to the surface on ShowMeTheJourney; compiling those 'Useful Links' directories on the station pages always takes a lot longer than I thought it would.
Finding a train
Something that a UK resident will encounter time and time again at major European stations is that the train departure info is more scant than at British main stations.
We're used to looking at departure screens which contain highly relevant items of information such as every station call which each train will be making, but on continental Europe this level of detail is rarely shown.
At Kobenhavn H station I initially struggled to find the train departure info at all, and that's because I was looking for a large departure screen, a train departure info focus point, of the type that can be found at major stations across Europe.
I'd spotted some small-ish train departure summary screens, near one of the sets of escalators, the type of screen that tends to provide the back-up info elsewhere.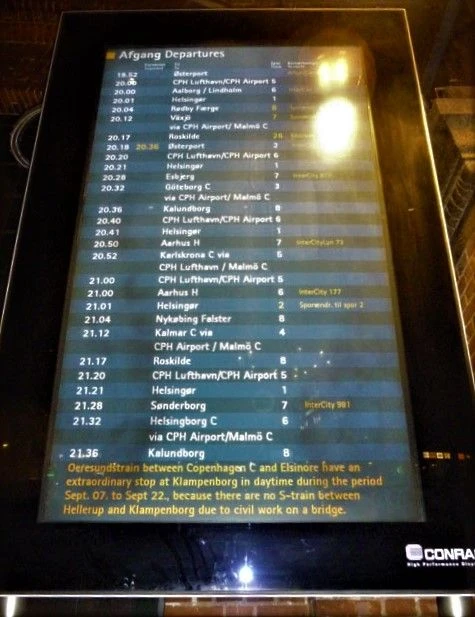 The type of screen, that more often than not, you can then keep an eye on from where you're having a coffee etc, to find out which platform (track) your train will be leaving from.
At Kobenhavn H station, these relatively easy to miss screens are the only departure screens. They show the departure time and final destination of each train; and at most one or two of the station calls that the train is making.
I'm not singling out Kobenhavn H for any particular criticism, it's a beautiful station that I have a high regard for, but too often at major stations on continental Europe, the electronic train departure info takes the minimum rather than the maximum approach.
Ideal if you're a regular user of the station, so just need to know which platform/track that the next train on the route you usually take will be leaving from, but not so great if you're not sure where you need to go and what you need to do.
I obviously knew that I need to take an Oresundtag train back to Malmo and Malmo fortunately is shown as a calling point of these trains to Sweden; which is particularly useful, as I'm sure most visitors wouldn't even be aware that two common final destinations of these trains, Kalmar and Karlskrona are Swedish towns.
Though if I'd be heading to Lund in Sweden, for example, and didn't know that I'd be travelling through Malmo I'd likely be confused; and this is just one example of a head-scratcher, so take your time and ask around if you're confused.