Being a train travel expert (ahem), working out the train journey options on these 'research trips' takes a lot less time than planning where to spend the night between trains.
My, ideal rules for an overnight stop are:
(1) no more than €70 per night
(2) within 10 mins walk of the main station, or
(3) within 20 mins by public transport
(I prefer to stay in an easy to find location right by a tram or metro stop, or local train station, rather than invariably getting lost trying to navigate a 10 minute walk through the streets surrounding a station)
(4) no subjecting unfortunates to the experience of having to share a room with yours truly, meaning no hostel dormitories or multi-berth sleeping cabins on overnight trains
(5) online reviews, which suggest that the accommodation is basic, but clean and comfortable.
(6) and now that ShowMeTheJourney has been published, free to access reliable Wi-fi has also found its way on to the must-have list.
Stockholm proved to be a destination when not compromising on these criteria was quite a challenge.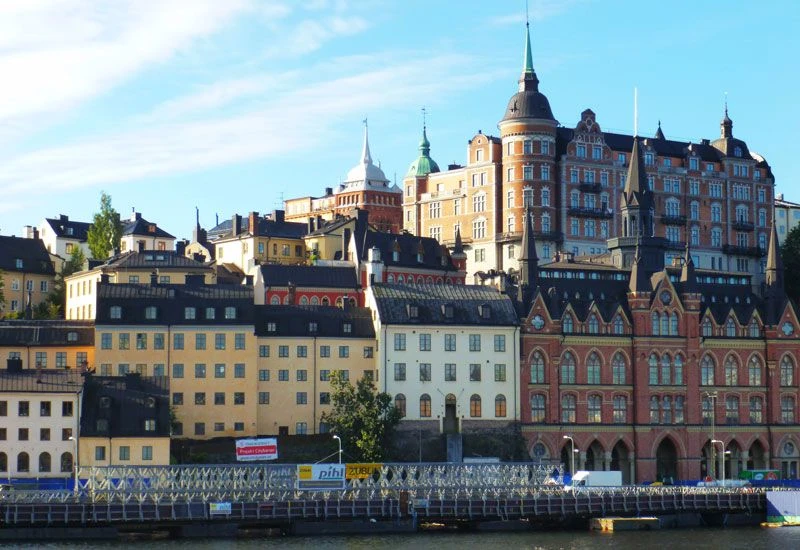 Stockholm Central station is relatively rare in that it lives up to its name, but it's also located in what seems to be a comparatively smart neighborhood.
A combination which tends to send room rates into the stratosphere, and as I was booking only 6 weeks ahead, an absolute bargain was proving elusive.
Hence my choice of a private room at the Hostel Birka, which turned out to be fine, as having access to an en-suite bathroom isn't on the absolute must-have criteria.
It wasn't just the price which led me to making this choice, the Hostel Birka is a two minute walk from Hortoget station, just a one-station hop from Stockholm Central on the metro; what could be erm, simpler?!?
If I hadn't been arriving late at night I may have attempted to make my way there on foot, making a one-station journey on pretty much any metro system is a tad eccentric, even for such a committed public-transportophile as myself.
But I've been tripped up more than once by not being initially being able to find where I'm staying; on a previous InterRail itinerary I'd booked the Brussels Radisson because it was literally across the street from Bruxelles-Luxembourg station, but then spent 10 mins looking for it because I'd used the wrong exit.
So today's top tip is... have a look at the neighborhood around where you'll be staying on Google Maps before setting off from a station, so that you can find a landmark to help you guide your way
Though I was a tad perturbed to discover that on this occasion the landmark I was looking out for was the plaque which marks the location of Swedish prime minister Olaf Palme's tragic assassination.
I'd read that Stockholm has one of the world's most iconic metro systems as entire stations function as huge art installations, with one of the most impressive of these being T-Centralnen.
But despite having wandered around and around that station the previous evening, I hadn't seen anything remarkable.
Logging on, once I'd eventually made it to where I was spending the night, I researched a little deeper and discovered that the Blue Line was a later addition to the Stockholm metro and it's this line, and predominantly only this line, which also functions as a gallery.
These Blue line platforms were the only part of T-Centralnen station which I'd yet to encounter.