I'd opted to stay in Menton, because by the time I'd arrived there on the previous evening, dusk had descended, but I wanted to travel between there and St Raphael by daylight.
When viewing the rail map of Europe, there is a route which tantalisingly seems to follow the Mediterranean coastline from Palermo in Sicily all the way around to Tarragona in Spain, but on a few parts of this route, the sea views are exceptional and one of these is the railway through the Cote d'Azur from Ventimiglia on the Italian border, to St Raphael.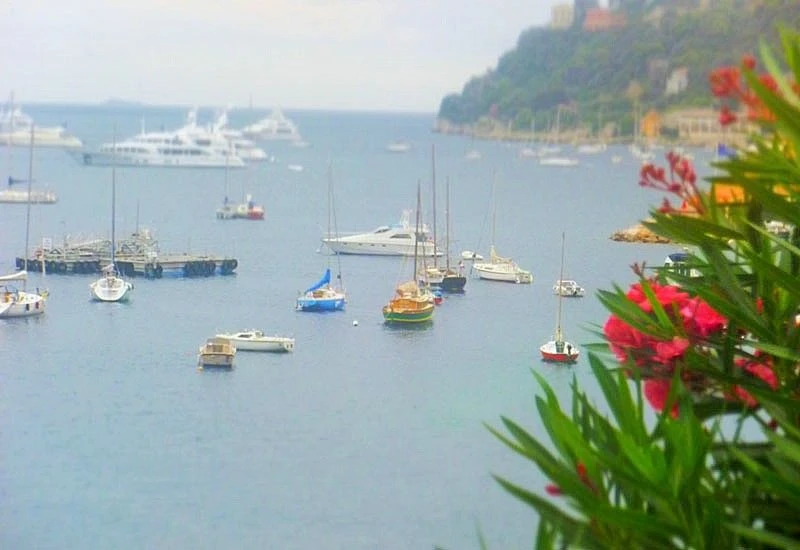 So this day of travels promised hours of fabulous coastal views, but as I headed back to Menton station the following morning, to my consternation the rain was pouring down, on a mid-September day, in the French Riviera – sacre bleu!
Since making this trip six years ago, long-distance train travel has experienced a renaissance, many once severed direct services have been restored in recent years, but Nice has proved to be an unfortunate exception to this upwards trajectory.
It had benefitted from the train operator Thello re-introducing direct trains between the French Riviera and Milano,
But this, albeit temporary, gain of a service to and from northern Italy, had been offset by the still continuing loss of direct trains from Nice to Bordeaux via Toulouse and of the Lyria service to Geneva; the latter has now become a summer only service which commences its journey in Marseille.
Nice has been particularly unfortunate as the daily TGV to Bruxelles via Paris has also joined the list of services which no longer pass Marseille for a jaunt along the Cote D'Azure and there are even fewer regular TGVs from Nice to Paris.
However, Nice is very much the exception rather than the rule, no other large European city has experienced such a recent reduction to its opportunities to travel by train.
In the same time period, the number of destinations which can be reached by direct train has actually increased at multiple locations, such as Krakow, Wien and Zurich.
When I arrived in Nice-Ville station, the next express train heading west to depart, was one of the now withdrawn direct Intercités departures to Bordeaux
If I hadn't been on a mission to over-complicate my journeys, by travelling on as many different trains as possible, I could have taken this train direct to Montpellier.
The removal of these trains between Nice and Marseille has also made it more awkward to make what had been a straightforward rail journey between the Cote D'Azur and Spain.
However, that day I took the opportunity to travel on the TGV, which was at the time was being used on the now withdrawn Lyria service to Geneve instead
Doing so also gave me an opportunity to investigate Marseille St Charles station, by slipping in an unnecessary connection to my schedule.
Having peered at the beaches and bays of the Cote D'Azur through a rain splattered window, when the train then travelled along the inland part of the route between St Raphael and Toulon, the skies became apocalyptic.
Then just before Toulon station the train halted and didn't move for more than an hour.
All announcements on trains in France are only provided in French and with my language lessons being a distant memory I couldn't ascertain why we had stopped, or more crucially when we would begin to move again.
I paid a visit to the bar-car where the utterly charming attendant explained that a lightning strike had hit the power lines.