In this view taken from above, the exit from the Metro station is in the far left corner, to the right of the blue poster - the escalator in the middle of the picture is the main link up to the main departure concourse.
You will exit into an atrium, pictured below, from where you will see the main concourse at the Gare Du Nord above you.
Take the escalators or lifts up to the main concourse; so if you follow this route and everything is in working order, you will have step-free access from the metro exit to the station concourse which is where the mainline trains depart from.
Walk ahead of you to access the part of the concourse adjacent to where the TGVs and Thalys trains depart from, you'll see them ahead over to the right.
Because the trains are over to the right, it's easy to assume that you'll need to head towards them, but you will have to go up another level to access Eurostar departures; the 'Hall du Londres' and the escalators and lifts (ascenseur) leading up to it are over to the left as you walk towards the trains.
They are located on the opposite side of the concourse to voies/platforms/tracks 14 - 15; look out for the Union Jack on the rear wall of the station concourse.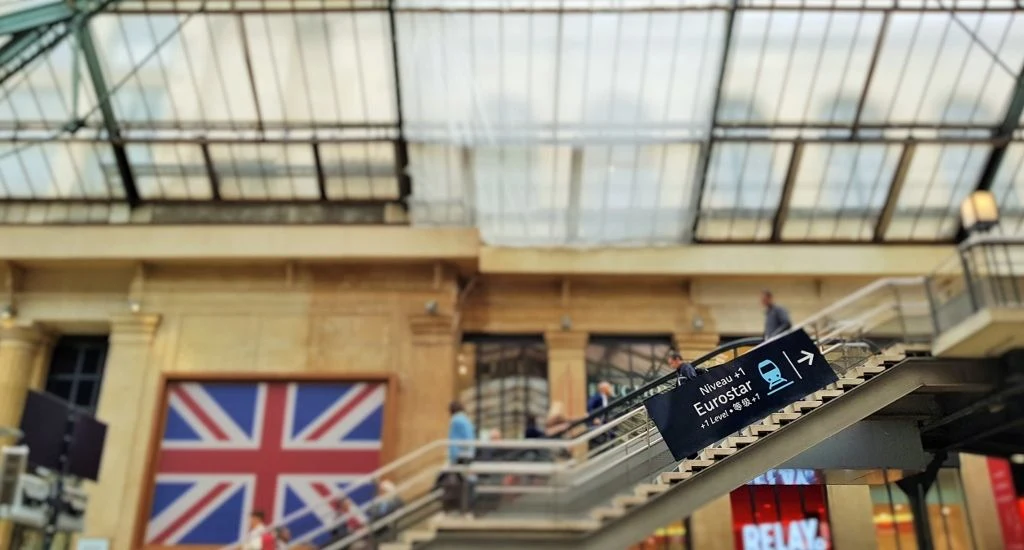 However, if you are connecting to the Eurostar and have Standard or Standard Premiere tickets, Eurostar is currently recommending tghat you should be at the entrance to the Hall Du Londres 90-120 mins before departure; and that Business Premier ticket holders should be there 45-60mins prior to departure.
The departure gates will close 45 mins prior to departure for Standard Class And Standard Premier ticket holders; and 15 mins prior to departure for Business Premier ticket holders.