Before opting to take the Metro from Paris Nord to Paris Montparnasse, these six things are worth considering:
Gare Du Nord is the busiest Paris Metro station and Line 4 is its 2nd busiest line, so at peak times the crowds can seem overwhelming.
You may not be able to even board the first train to arrive.
(2) The access to the Line 4 Metro platform at Gare Du Nord is NOT step free.
(3) There are no luggage spaces/racks on the trains and they're not air conditioned either, so they can be uncomfortably hot!
(4) You will leave the train at Montparnasse – Bienvenüe station, look out for the stop after St-Placide.
(5) Montparnasse – Bienvenüe metro station is connected to Paris Montparnasse station by long passage ways.
So long that despite the provision of a travellator, it takes around 12 minutes to from stepping off the Metro being on the main concourse at Montparnasse (a long way to run if you're in a hurry!)
You will first have to negotiate three short flights of stairs to access the travellator.
And the travellator itself is long!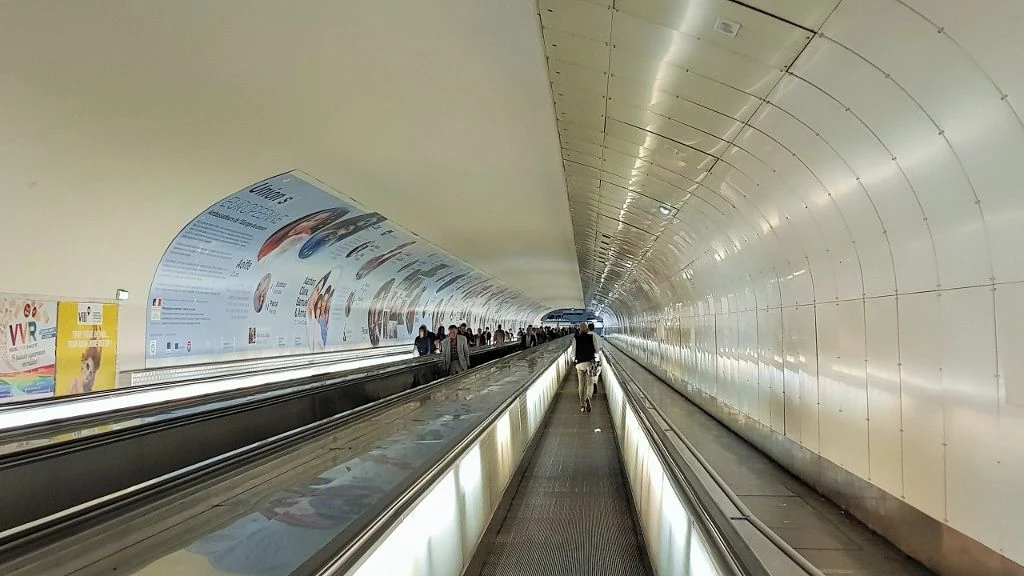 (6) When you finally exit the metro station, the mainline trains will be two levels above you, though there are banks of escalators and lifts/elevators.