The ten things most worth knowing when booking tickets on the SJ website:
1: Tickets are usually placed on sale up to six months ahead of the travel date, though prior to the annual timetable update on the second Sunday in December, the tickets for journeys after the new schedule being in place, won't be released for sale until early November,
2: Limited numbers of discounted tickets will be made available for long distance trains; and not just the fastest Snabbtåg services.
So the earlier you book the more you will save.
3: A quirk of SJ's booking service to look out for, is that when attempting to book too far ahead, before tickets are released for sale, the English translation is 'not available'.
This does not mean that tickets for this train have sold out; what you need to do is check back a few days later to see if the tickets have been released.
4: It's worth being flexible re: departure and arrival times and searching through the departures on the day you want to travel to find the cheapest fares.
The more popular a train departure is, the more expensive it is likely to be; as those most heavily discounted tickets are more likely to have sold out.
5: SJ doesn't assign names to the types of tickets such as Advance or Premier, instead their differentiated by their core terms and conditions, with the greater flexibility having a higher price.
The same three types of ticket are offered regardless of which travel class has been selected.
Non-Rebookable: Can't be refunded or exchanged.
Rebookable: Can be exchanged to a different departure or in the event of a trip cancellation, the price paid can be used as a credit valid for booking a different ticket for up to 180 days.
Refundable: Can be fully refunded or exchanged.
6: When you book 1st class tickets on the SJ website for any train service, the seat reservation is always complimentary; and this is also the case when booking 2nd class tickets on in on the express Snabbtåg and IC trains which are operated by SJ.
7: SJ also sells tickets for trains from Sweden to Norway and Denmark (Kobenhavn/Copenhagen).
During June – September the direct trains between Stockholm and Copenhagen/Kobenhavn can sell out days in advance.
(If they are then book a Stockholm to Malmo ticket and then a separate ticket for the journey between Malmo and Kobenhavn; there are 3x trains per hour from Malmo to Kobenhavn).
8: What's comparatively new is that the SJ website now also sells tickets for journeys by Snälltåget trains, which it doesn't operate, on routes between Stockholm and Malmo and Are.
9: Booking beds on SJ Night trains
When you want to book a bed(s) in sleeping cabins or a berth in a couchette, the accommodation options, their respective features and the total price to travel by each of them are clearly shown.
10: On the trains provided by the national rail operator, SJ, up two dogs can be taken on board for no additional cost, but on the express Snabbtag and IC trains, you and the dog(s) will need to travel in specific spaces on the train, which must be reserved in advance.
These spaces are in Second Class, you cannot travel with dogs in first class on any SJ train.
Though if you want more space, because your animals is large, you can purchase a ticket at the equivalent of the youth rate.
When booking the ticket for yourself you will need to select the 'Animals Allowed' option on the seating plan.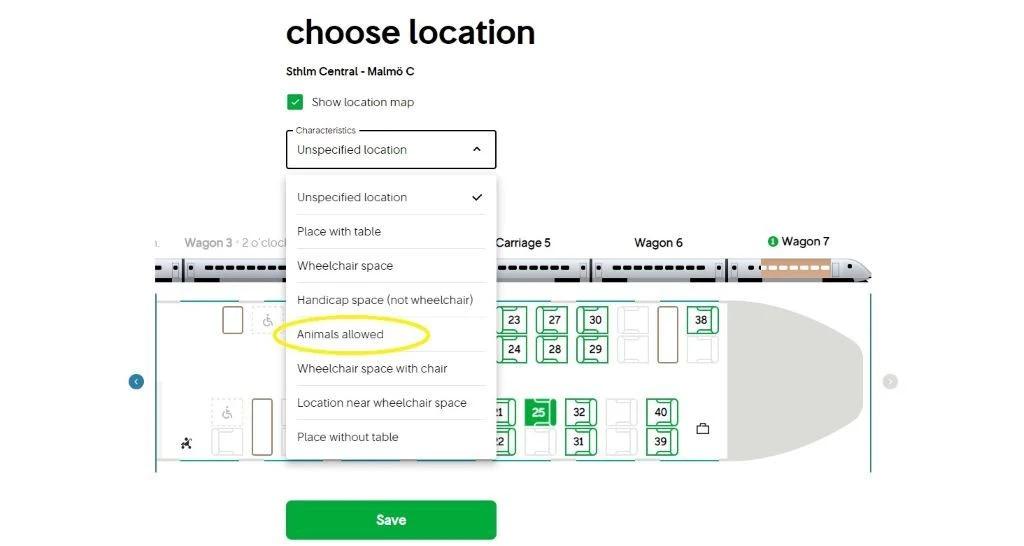 On other trains you will need to board the train into the specific marked areas.