But before I could feel like a VIP I had to board the train, having used the main entrance to Bologna Centrale on the city side of the station.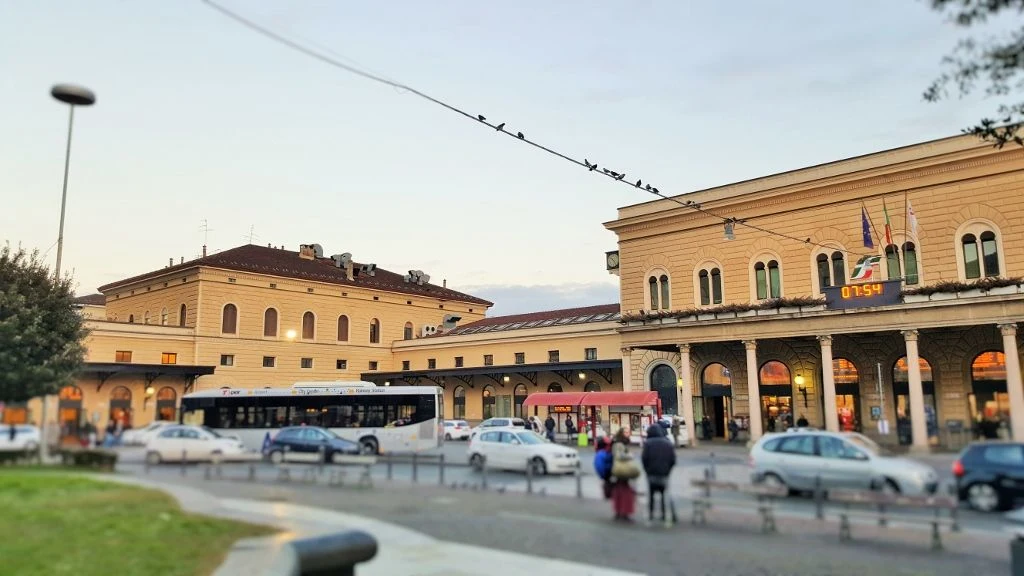 I avoided the long queues snaking back from every ticket window, by obtaining my rail pass reservation from a ticket machine, so now had the number of the train I'd be taken on the reservation coupon.
I then found the train number on the departure board which told me that I need to head to binari 19 in order to board my train to Napoli, the excellent signage told me to head down from the booking hall into the passage way under the railway tracks.
Disconcertingly the number of the binari I needed to head to was higher than that of any bianro (platform/track) in the main station, but the sign told me to head on away from them.
This didn't seem to make sense, but I didn't know that there was another part of Bologna station that I'd yet to experience or even see.
I trusted the signs and found myself at the side of an underground road, used by cars and taxis to drop travellers off at the station, a location that had the aura of a shopping centre car park.
I didn't want to take a taxi, I wanted to catch a train, but I couldn't see any from here and was beginning to think I'd made a wrong turn.
Then I noticed that some people who had been dropped off by taxi were using an escalator heading downward, so I checked the signs by it and all became clearer, I needed to head in the same direction.
As I was conveyed downwards I was astonished by the gargantuan size of the room that I could now see below me and over to my left.
For I was now in what must be the world's largest railway station waiting room, which spans most of the length of the AV station used by the high speed trains.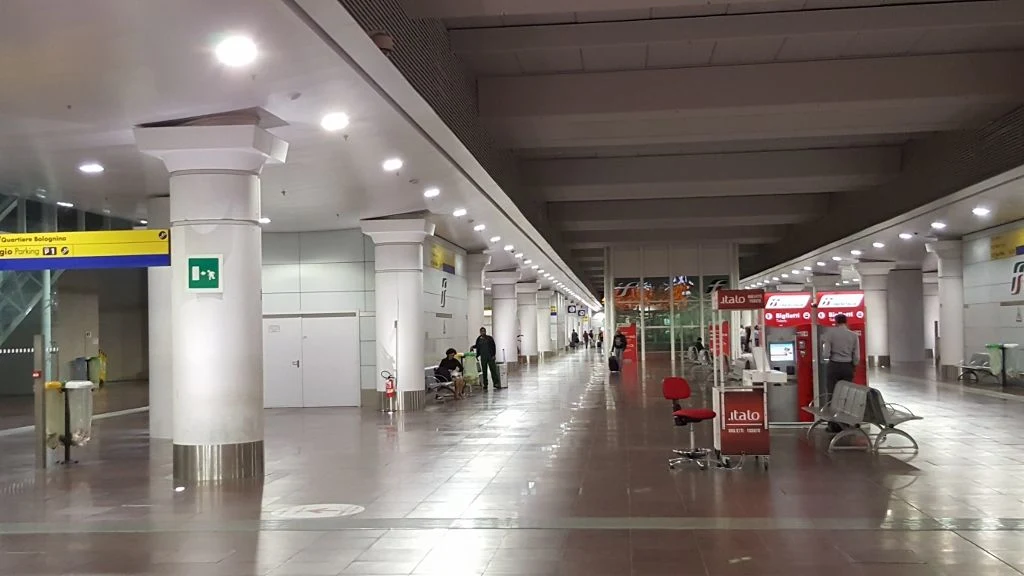 What was also astonishing was how empty this space was, because it doesn't serve a purpose, other than impressing by its scale.
If you take a taxi or drive to Bologna Cle in order to catch a high speed train, you can time your arrival so that you won't have long to wait, so it's not obvious who this area of the station is intended for.
If you will have time to kill between trains at Bologna Centrale, then having a drink or something to eat in the more beautiful areas of the older station, is a better means of idling than hanging around in the AV station
Though if you wanted to while the time away waiting for a train by playing a game of football or basketball then this could be your ideal station, all it needs is someone to put up some goals and mark out the playing areas.
For it seems as though when the AV extension to Bologna Centrale was planned, surprisingly little effort seems to have been given to how people will use it, but serious consideration was evidently given to how impressive the new station would look.
Perhaps architects aren't regular users of trains, because this can be a common scenario.
London Bridge, St Pancras International, Antwerpen Centraal and Stockholm Centraal are other examples of spaces with a wow factor, but where many users of the station now have further to go when accessing the trains, than they did pre-makeovers.
Bologna Centrale is I suspect an example of compromise, because a more ideal scenario would have been to construct a passage way, with associated elevators and escalators, in order to provide a direct link between the AV station and the older station and all of the platforms housed within it.
Though in a station which already had three passage ways under the tracks, already capable of confusing first time users, the decision was evidently taken that the access to and from the high speed trains would be through the car drop off zone, regardless of whether the travellers would or wouldn't be taking a taxi.
But as a result both the hoped for wow factor from using the AV station, and the needs of many travellers are somewhat flawed.
Because not only is the car drop off zone the grimmest area in Bologna Centrale, travellers who want to head to the city centre exit, or to change trains, are being routed the long way round.