Heading back to Roma, the Frecce train from Napoli slammed on its brakes, waited a while before resuming its journey and then promptly ground to a halt again.
The conductor passed through the coach and said that they were trespassers on the line, an unhappy situation which quickly showcased the chief negative of high speed train travel.
When a train is supposed to be travelling a distance of a kilometre in around 15 seconds, the consequences for time keeping can be problematic when it unexpectedly doesn't move for 25 minutes.
So by the time I arrived at Roma Termini I only had 40 minutes to spare before a train I was booked on to would be departing from Rome's alternative high speed station, Roma Tiburtina.
This wouldn't have been an issue if I'd been travelling back to Bologna on a Trenitalia train, I'd have simply booked a last minute rail pass reservation for a later train,
However, I wanted to experience a journey on a train operated by Italo, and because rail passes aren't valid on Italo trains, I had a pre-booked ticket on a specific departure from Roma Tiburtina; I had deliberately opted to take a train from the Italian capital's secondary station so that I'd have an excuse to pay it a visit.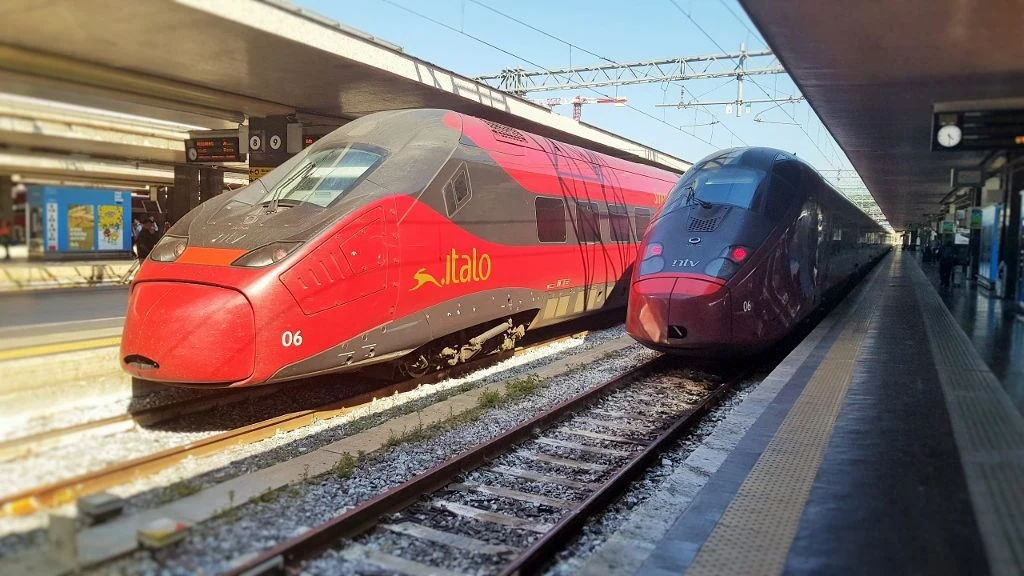 So the plan to take my time with capturing some lovely photos of Roma Termini and to then take a Regionale train over to Tiburtina had to be jettisoned, because I rushed to take the Metro.
Boarding a train at Roma Tiburtina station
One of the upsides of this experience was the discovery of a useful nugget of info, namely when taking the Metro to Roma Tiburtina, the transfer to the mainline trains is less than ideal.
Hundreds of millions of euros have been spent on rebuilding a station in a non-descript suburb of Roma in order to offer travellers an alternative to using Roma Termini.
I'd have used some of that money to construct some elevators between the platform level in the Metro station and my shiny new concourse in the mainline station, or at least come up with any alternative to travellers having to heave luggage etc up and down three flights of stairs within the Metro station, when heading to Tiburtina!
Though what calmed my mood was the glorious sight which greeted me when I finally ascended up on to the enormous bridge which spans the mainline railway tracks at Roma Tiburtina.
It is in my humble opinion the most beautiful 21st century addition to Europe's railway landscape I have ever seen; even more awe-inspiring than the likes of Arnhem Central, London Bridge or Torino Porta Susa; though I suspect Tiburtina has now been eclipsed by the gorgeous Napoli Afragola.
But you'll have to take my word for it.
The camera on my phone was struggling to focus on the glorious curved shapes on the station roof, so I was rooted to the spot making a series of failed attempts at taking images, and therefore an easy target for the intervention of a security guard who then asked me to hand him my phone.
A frankly panic-inducing conversation then occurred in which I had to delete all my failed images of Tiburtina station before I was waved on my way.
Leaving me to ponder what secrets Tiburtina possesses which required this intervention, my escape had been aided by the security guard's anxiety to move on and stop some other nearby travellers from also capturing images, because the architecture is an Instagram dream.
I thankfully wasn't asked to delete any other images, he seemed to be admiring the pictures I'd taken of the Frecce trains, so what is so special about the interior of Roma Tiburtina?
If I'd made that sort of investment to create something so pleasing to the eye, I'd want to show it off.
Presumably the station's internal appearance is at the opposite end of the spectrum to dull, because its evident creativity was intended as a lure to entice people away from Termini, so why hide it?
Though one day I'll return to Tiburtina, not to risk another attempt at capturing images of its design, but because in the five minutes I then had to wait for the train back to Bologna, I realised that it's an ideal location for capturing more pictures of Italian trains, because Tiburtina is also a dream destination for train-spotting!