2a: CHOOSING A JOURNEY (dates of travel)
As there is no opportunity to enter a travel date on the home page - this SECOND stage of the booking process on NS International, is where you choose a travel date.
If your travel date is fixed you can click on it.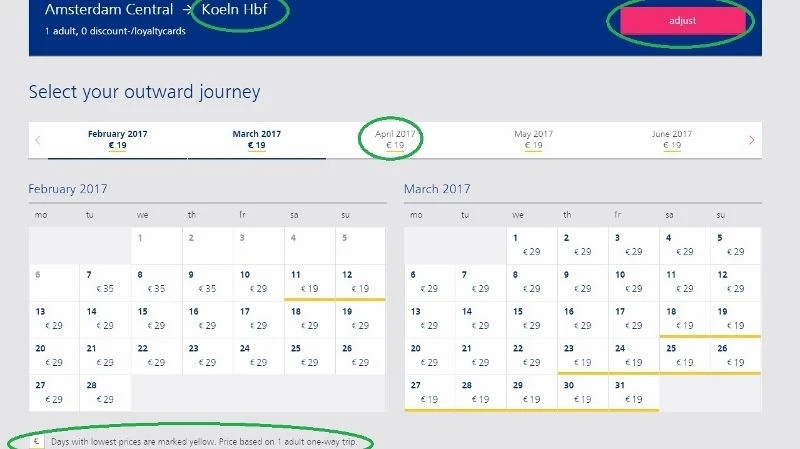 Click on the row of months towards the top of the screen, if you want to book further ahead than the two months initially presented.
Finding the cheapest tickets:
However, as can be seen above, the dates underlined in yellow are the dates on which the cheapest possible (2nd class) prices are available.
Though not necessarily on all departures on each particular day - and also perhaps not on direct trains either.
If you initially don't see any yellow lines, you may need to select different months further ahead, in order to see on which future dates the cheapest possible tickets are available.
Though the cheapest price may only be available on journeys which involve a change of train.
Also note that the prices shown are for a one way (single) journey - the opportunity to ALSO add a return (two way) journey is available at the NEXT STAGE of the booking process.
Also available at the next stage of the booking process is the opportunity to select the departure time.
2b: CHOOSING A JOURNEY (time of travel)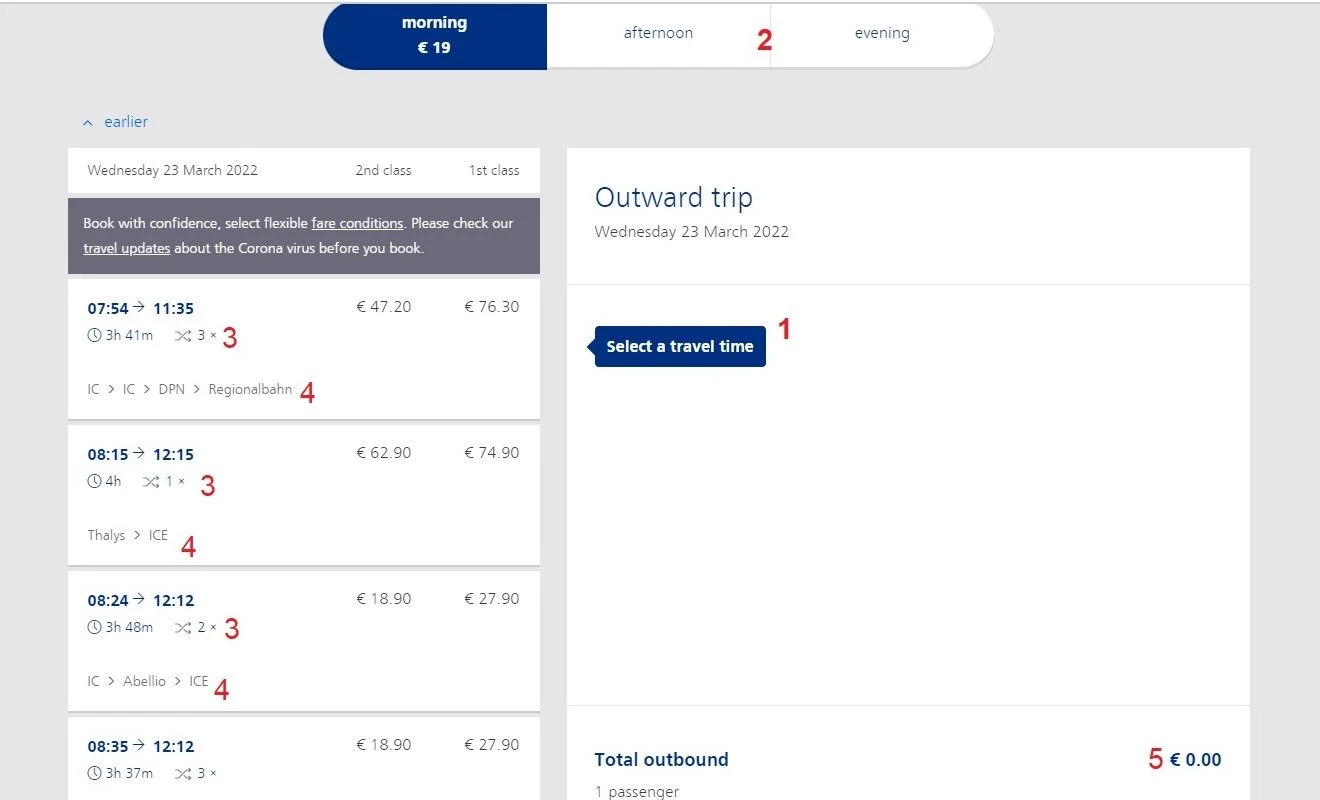 When you have selected a travel date, you will access the journey details page, on which only the first six departures of the morning/afternoon/day will be shown.
What's been pointed out above is:
If you want to travel by any of the visible departures / combinations of trains, you can can move the 'select a travel time' to see the details of the available tickets for it.
If you want to depart later in the morning then scroll down, but if you want to travel in the afternoon or evening, you can use these shortcuts.
When choosing a departure it can be a good idea to not be solely guided by price and to pay close attention to the number of connections for each departure (it isn't possible to filter by direct trains only)
The type of train used for a departure are also shown, which are particularly worth paying attention to when more than one train service shares a route.
At this stage the price is €0.00 because you haven't selected a departure; this is where the total price of a journey will be shown, once 'extras' such as reservations or travelling 1st class are added.
It isn't possible to select only direct trains when looking up a journey on NS International, but if they are an option on a route, they stand out on the departures list.