What's been circled above is that when booking Elige tickets you can choose between sitting in the equivalent of first or second class seats.
A 'Confort' seat is the equivalent of a first class seat on Renfe's larga-distancia (long-distance) trains, hence Elige-Confort tickets being the equivalent of first class tickets.
On departures on which Premium Tickets are not available, selecting this option is how to book seats in first class.
Choose the 'Elige' ticket on the left and your seats will be in Estander Class, which is the equivalent of second class.
Also note on this particular departure that the Elige Confort price is cheaper!
Elige tickets are not available on the international trains between Spain and France
The terms and conditions in the 'What's Included' section, which are particularly worth paying attention to, are:
A Comfort Seat is indicated because Elige Confort has been selected.
The core terms of using Elige tickets are more generous than booking Basico tickets, even if you don't pay to add more flexibility as an extra (see below). If you cancel your trip you will receive 70% of the price paid; and...
if you miss the train you will only have to pay 20% of the price of the replacement ticket; though you can pay €20 to upgrade your ticket so that it is then fully refundable and exchangeable.
An extra which can be added when booking an Elige ticket and not a Basico tikcet, is the ability to pre-order a light meal, which will then be delivered to you at your seat when you're on board the train; more info below.
You can opt to add whether you want to travel in a window or aisle seat, but you cannot choose a specific seat or ensure that you will be facing forward; the cost of doing so is €3 cheaper than when booking Basico tickets.
If you will be travelling with a dog which weighs 11kg to 40kg, and travelling on AVE trains between Madrid and Alicante, Barcelona, Malaga and Zaragoza, you can select departures with a paw symbol when booking Elige tickets.
Small dogs which weigh less than 10kg can be taken on all Spanish long-distance trains and they must be placed in a pet carrier or other pet specific container; the cost of doing so is €10 cheaper than when booking Basico tickets.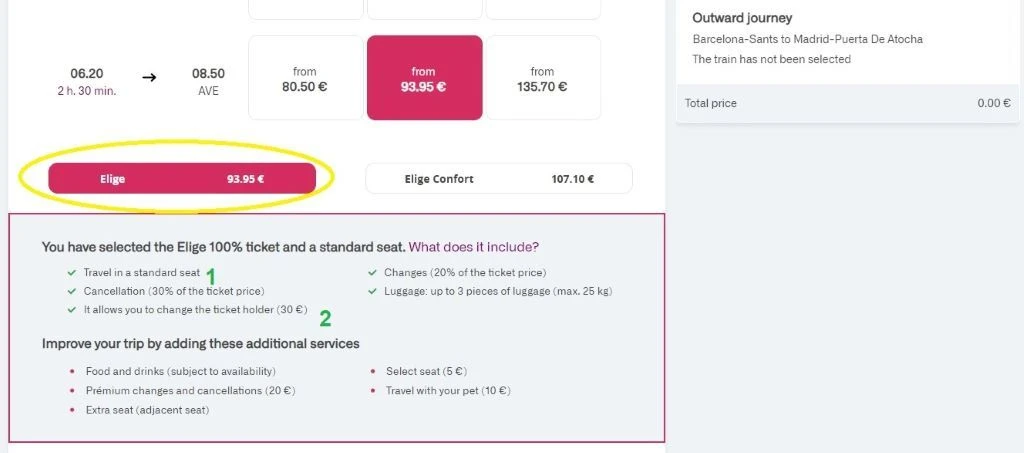 As explained above, you don't have to opt to travel in Comfort Class when booking Elige tickets for Spanish train journeys.
The core difference if you select 'Elige' instead of an Elige-Confort ticket is that that you will be travelling in an Estander seat (a second class seat)
Though the range of extras (2) which you can add to your booking are the same as if you were to opt for Elige Comfort - and they cost the same price.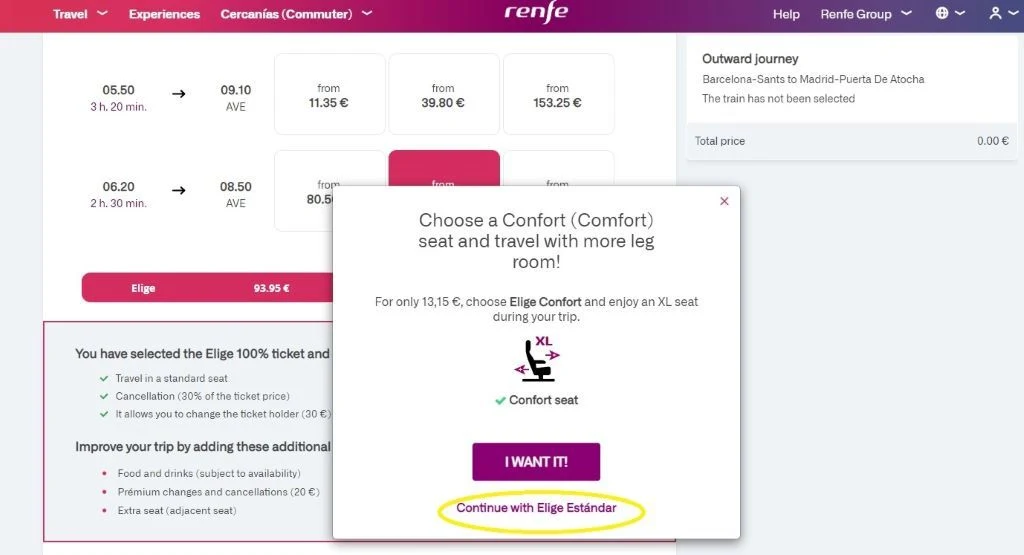 Though if you don't select Elige Confort, when you click 'Next' to move on to the next stage of the booking process, you will see the equivalent of the above screen which will point out the additional cost of opting to travel in Comfort instead.
Though what's worth looking out for is that, a tad cheekily, Renfe will assume that you will want to opt to pay the additional cost, so if you don't want to do so, you have to be proactive and switch to continuing to book 'Elige Estander'.