If you access the PKP website from a search engine or on the link above, you may initially see the Polish language version of the website, but it is also available in English, German and Russian.
Having selected the English language version, the first screen you will see will look something like this: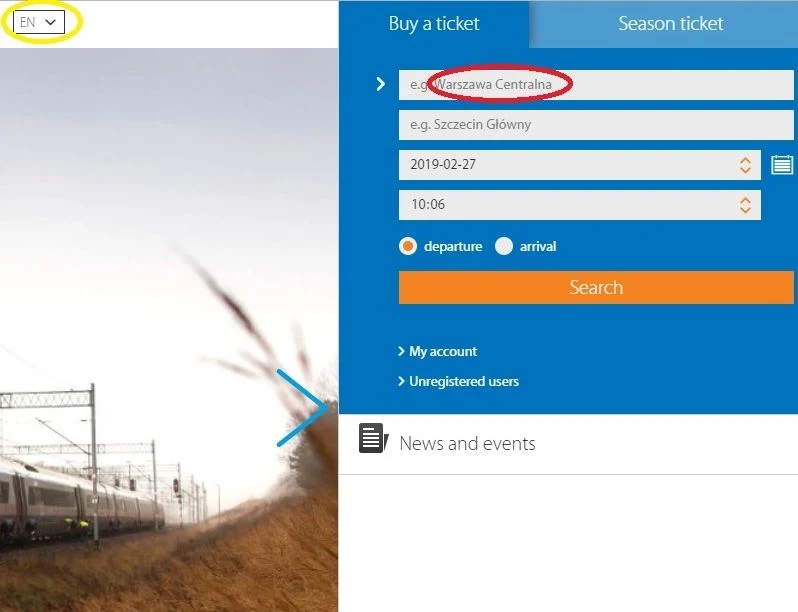 What has been highlighted by the red circle is that you will see 'Warszawa Centralna' in the from box, which where you will enter the station at which you will be commencing your journey.
But if your journey will be commencing at Warszawa Centralna station, you will still need to enter the name into this box, as it hasn't been pre-selected.
Once you have typed the first three letters of the name of a city into the box, a drop down menu of station options will automatically appear.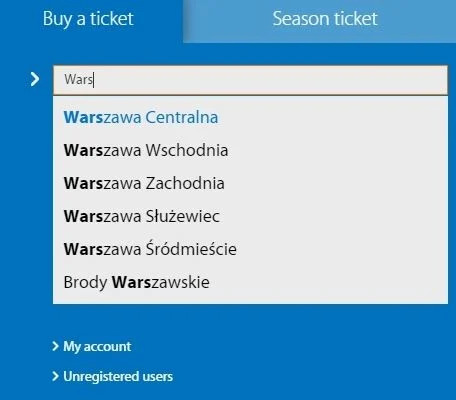 As will be seen, in the major cities you can have a choice of stations to select from, but the English translation of 'Glowny' is main station.
You don't have to pay any attention to the special characters used in Polish grammar, when entering the name of a city.
Though only the Polish names of cities are used in the drop down; they're not translated into English (or German or Russian)
This isn't likely to be an issue unless you will be looking up journeys to and from Warsaw, if you enter 'Warsaw' into the box, the drop-down menu won't be triggered, so you won't be able to choose a specific station in the city.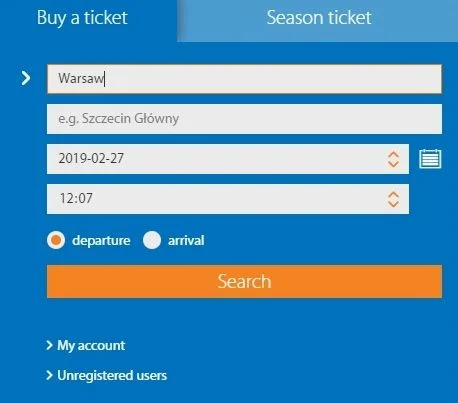 However, if you don't rush at it and type Wars you will see...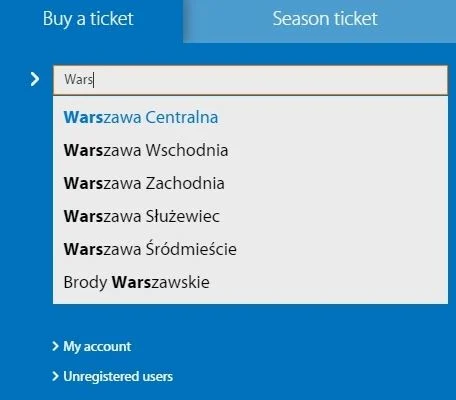 Note that when there are multiple stations in a city, you need to select a specific station when making a booking on PKP.
Virtually all trains to and from Warszawa/Warsaw will call at Wschodnia and Zachodnia stations, in addition to calling at Centralna, so it can be worth looking up the location of your start/end point of your journey, to check which of these stations will suit you best.
Also look out for:
Aside from choosing your start/end point, there are three other aspects of using that journey search box, which are worth being aware of
(1) Choosing your departure time: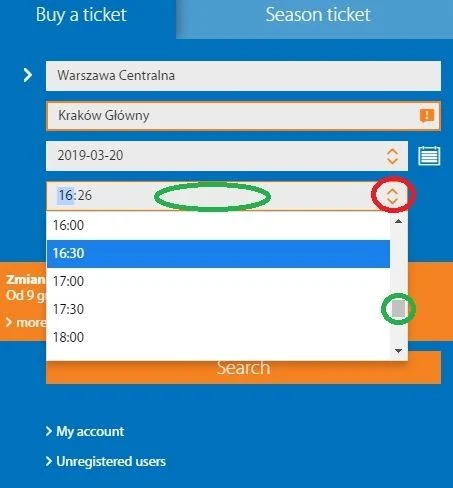 What we're pointing out here is that you don't have to use the up/down arrows, circled in red to select a departure time.
The quicker option is to click on the white space, that's been circled in green; if you do that the drop-down option of times will appear and scrolling through these, is quicker and less awkward.
(2) Using the calendar:
The calendar has an unusual layout, which kept tripping me up, when I looked up multiple journeys; though there's a chance that you'll wonder why I was being so foolish (ahem).
![Using the calendar when booking tickets on the PKP website]https://res.cloudinary.com/smtj-images/image/upload/v1635429658/b7e8f6a6_cf23_43d7_8f83_d043de7f615d_4c64ac73c1.jpg)
What's been highlighted, is that no matter which month you are looking up, the dates on the calendar will always fill up the six rows, including dates that have passed.
So you need to pay attention to the month that's shown at the top of the calendar, particularly if you'll be going in and out of the calendar to look up different travel dates.
(3) Alerts that the usual schedule is disrupted: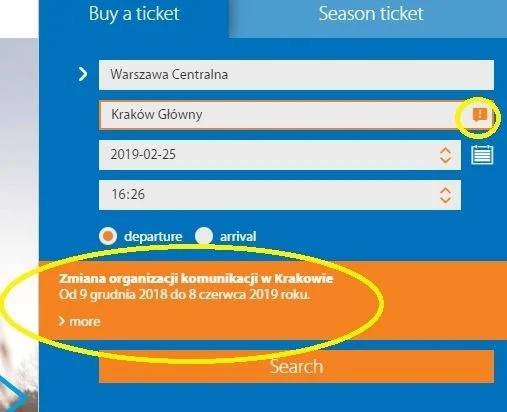 Depending on the destination you have selected you may see an exclamation mark appear in the destination box.
This is making you aware that work is being carried out on the railway line between your start and end points, but what's not obvious is that this scheduled work may NOT be carried out on your travel date, particularly if you'll be taking a journey on Mon-Friday.
You'll see that the summary of the works info isn't translated and neither is the page you will be taken to if you click on '> more' - and when I ran Google Translate over the info, I couldn't make out the specific dates on which the work was being carried out.
So my advice is to be aware of this warning, but to ignore it and carry on with your booking; though I did notice some dates when due to the work on the line, all services on that particular date were cancelled, without any substitute services apparently being offered.